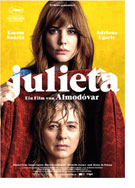 Opening 4 Aug 2016
Directed by: Pedro Almodóvar
Writing credits: Pedro Almodóvar, Alice Munro
Principal actors: Adriana Ugarte, Rossy de Palma, Emma Suárez, Michelle Jenner, Inma Cuesta
The screenplay is based on a volume of short stories by Alice Munro, Tricks. This is a more traditional drama than we have been seeing from Almodóvar in recent years, and the format turns out refreshingly clear and uncluttered.
Julieta (Suárez) is an elegant widow making preparations to move from Madrid to Portugal with her new partner, a sculptor. On the street she has an unexpected meeting with her daughter's former best friend, and Julieta presses her for news of her daughter. It seems that the daughter has had no contact with her mother for many years. After this meeting Julieta's life is put on hold as she struggles to deal with the events that lead to the separation.
A long series of flashbacks tells the tale of a younger Julieta (Ugarte) as a teacher of literature in her Sturm and Drang phase, meeting a fisherman (Grao) and moving to his house in a fishing village in Galicia. This does not happen without the opposition of the housekeeper (de Palma), shades of Mrs. Danver or should we say the Wicked Witch of the North. Through intrigue and inexperience a small family tragedy takes its course. And now in the present Julieta must resolve her suppression of pain and her loneliness.
My overwhelming impression was one of forceful acting and of strong sensuality. Alberto Iglesias´ soundtrack is fantastic. And there is visual stimulation in the yellows and browns and blues and the spot of bright red (that orangey HASPA red) in every scene. Also in the contrasting styles of decoration in homes and sculptures and wallpapers and tiles (I love films with interesting interiors). And there are hugely diverse fashion statements in the hair and style of the younger and older Julieta.
Alódovar succeeds in creating a satisfying and artistic film which works like a stimulant. And he does have strong women. They are survivors, every one of them. (Ann Gebauer-Thompson)