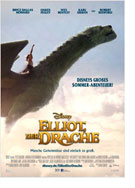 Elliot, der Drache (Pete's Dragon)
U.S.A. 2016
Opening 25 Aug 2016
Directed by: David Lowery
Writing credits: David Lowery, Toby Halbrooks
Principal actors: Bryce Dallas Howard, Robert Redford, Oakes Fegley, Oona Laurence, Wes Bentley
Pete's Dragon, which Disney will bring to the theaters in August, is not just a remake of the 1977 version. It is instead a reimagining or reinvention of this cult classic. The narrative still focuses on a young orphaned boy named Pete (this time staring, Oakes Fegley) and his lovable dragon friend, Elliot, but as director David Lowery says, the similarities end there. Unlike the first filming in 1977, this is not a musical with a quick song and a dance for almost every scene. Lowery's Pete's Dragon rather emphasizes the characters, their emotions and the relationships between them. There is some singing but this is reserved for special moments, for example, when Pete sings: "Go North, …deep in the forest, there dragons will be". It sets the mood for a magical adventure.
The storyline or "adventure" in this 2016 version of Pete's Dragon begins after a car crash leaves Pete alone and orphaned in the forest. A big, furry dragon with expressive dog-like eyes finds him and takes him lovingly into his arms—a bond has been formed. Six years of undisturbed living in the forest pass and then one day Grace (Bryce Dallas Howard), a forest ranger, catches Pete's attention and interest. Grace has just heard her father (Robert Redford) tell some children a "tall tale" about the dragon he saw deep in the forest many years ago. Grace laughs at this in unbelief until she meets Pete and brings him home. He tells her about his friend in the forest, who just happens to be a dragon. Grace is determined to find out where Pete comes from and where he belongs.
Lowery's Pete's Dragon is a unique and impressive film both emotionally and visually. From the moment when Elliot takes Pete tenderly into his arms until Grace appears there is very little dialogue, but the relationship blossoms. With stunning scenery filmed in New Zealand, we accompany Pete and Elliot as they romp in the woods, soar through the air or Pete just rests his head on Elliot's tummy….those precious moments that mean so much.
Not only were Oakes Fegley and Elliot perfectly cast, but also Howard as Grace, Redford as Grace's father and Oona Laurence, as 11-year-old Natalie, did a wonderful job of interacting and generating real emotion. Only Karl Urban as Gavin, the "villain", seemed to be trying too hard.
Overall, Pete's Dragon is a great new film about belonging and saying good-bye, an important film for children as well as for adults who have stayed (or want to become) young at heart. (Karen Schollemann)