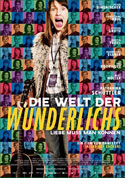 Opening 13 Oct 2016
Directed by: Dani Levy
Writing credits: Dani Levy
Principal actors: Katharina Schüttler, Ewi Rodriguez, Peter Simonischek, Christiane Paul, Hannelore Elsner
Why is the teacher in the cupboard and who has the key? Mimi Wunderlich (Katharina Schüttler) is called to the rescue. She is a single mother and her hyperactive son Felix (Ewi Rodriguez) plays the fool by amusing his classmates. Rushing off on her scooter, she hits a customer (Steffen Groth) on the parking lot. The young man runs after her asking for a date. She has no time for these things. Her depressive mother (Hannelore Elsner) blackmails her with a soppy story. Walter, her manic father (Peter Simonischek, lately seen in Toni Erdmann), refuses to take his medicine and keeps wandering off to the horse races. Johnny (Martin Feifel), her ex-husband, is not much help either. Once they sang together in a rock band. Now he hangs on the bottle and lives in a shabby hotel, admired by young groupies.
Mimi struggles with life's daily difficulties and seems to be the only "normal" one in the family, trying to be the strong-one at all times. One day, there is a call from Switzerland. She is invited to compete in the casting show "Second Chance". Having just lost her job, this might be a true second chance as a singer. She leaves for Zürich on her own. The chaotic family members think otherwise: "We have to support you", meaning we are all coming.
Dani Levy has chosen a well-known and experienced cast. Katharina Schüttler is wonderful and her Mimi is lively and refreshingly nuanced. She carries the film, partnered by the young Ewi Rodriguez as a very authentic Felix.
Levy's speciality is filming complicated families. In contrast to his wonderful comedy Alles auf Zucker, his latest work is not as convincing. Despite same good gags, it is too confusing with too many nerve-wrecking characters. (Birgit Schrumpf)