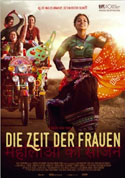 Die Zeit der Frauen (Parched)
India 2015
Opening 27 Oct 2016
Directed by: Leena Yadov
Writing credits: Leena Yadov
Principal actors: Tannishtha Chatterjee, Radhika Apte, Surveen Chawla, Adil Hussain, Lehar Khan
Leena Yadov, writer and director of Parched (Die Zeit der Frauen) traveled through Northwest India listening to women's stories in order to come up with ideas for her movie. The result is a story centering around four women who live in a rural village where most of the men try to hold on to tradition. The women, on the other hand, want modern times with modern amenities such as cell phones and a television for the village. The women endure the struggles of tradition, abuse and exploitation. However, their friendships and relationships with one another help them to still be full of hope, desire and ambition. The film is set in an arid desert region of India but is brought to life with vibrant color and music. Since its premier at the Toronto International Film Festival in 2015 it has been a surprise hit at many other film festivals. (Alana Leichert)


Second Opinion

Rani (Tannishtha Chatterjee) came to the dusty village in northern India as a 13-year old child bride. At the age of 16 she was already a widow, having to care for her baby. Now she is in her 30s and it is time to find a bride for her 17-year old son Gulab (Riddhi Sen). The lovely Janiki (Lehar Kahn) from a neighboring village is chosen. Neither of the two teenagers want to get married. Janiki secretly cuts her long black hair, hoping to be "worthless", but her parents still insist as they need the bride-money. The drama and sorrow takes its course. Gulab is not interested in his new wife but instead goes drinking with his friends and spends money on other women. No wonder Janiki is lonely and misses her school friends. Rani is unhappy too. She had spent all her money for a bride but her hopes for a happy family-life are shattered. Her best friend Lajjo (Radhika Apte) tries to cheer her up, despite her own domestic problems. Her drunken husband beats her, reasoning that she is unable to bear him any children. She just accepts her lot knowing that it is commonplace for men to get drunk.
A traveling theater company arrives in the village. And with it comes their close friend Bijli (Surveen Chawla), a boisterous and street-wise erotic dancer. With her zest for life she brings some laughter into their life. She advises Lajjo that it might be her husband who is infertile and the cause of her childlessness. Therefore no reason for his beatings? Their mutual support and womanly friendship gives them strength to take the first step to gaining self-confidence.
Indian writer-director Leena Yadav's contemporary movie is set in an isolated village where archaic patriarchal norms are still in place. But times are changing. This engaging film is critical but also has its comical scenes. Oscar©-winning cinematographer Russel Carpenter (Titanic) plays with contrasting shades of the desert. He shows the vastness of the landscape as well as taking an intimate look into the dark mud huts. A wonderful highlight are the women in their various tribal costumes and finery in vibrant colours.
Parched was first shown at Toronto International Film Festival 2015, followed by Festival screenings in Stockholm, Los Angeles, London and Stuttgart. (Birgit Schrumpf)