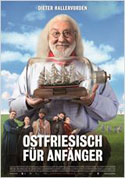 Ostfriesisch für Anfänger
Germany 2016
Opening 27 Oct 2016
Directed by: Gregory Kirchhoff
Writing credits: Sönke Andresen, Franziska An der Gassen
Principal actors: Dieter Hallervorden, Holger Stockhaus, Victoria Trauttmansdorff, David Ali Hamade, Philippe Graber
Uwe (Hallervorden) lives alone in his big house in Ostfriesland. The local authorities recognize this potential for housing refugees and send them over to live with him. This is a shock for Uwe, who has a reputation for being a loner. He slowly becomes accustomed to the collection of cultures spreading throughout his house. Then he learns that he must also teach them German. But in this part of the country, the language is a dialect called Ostfriesisch – the only language Uwe knows. He is an excellent teacher, and they are patient students; none of them realize that they are learning a marginal tongue which will not get them farther than this small area, but they soon settle in, perfectly satisfied.
Comedian Hallervorden is the perfect choice to play Uwe; he obviously has fun with the role. I actually understood this dialogue, in spite of the strange pronunciation and choice of vocabulary. The Germans consider it a form of Plattdeutsch, although it is not the same Plattdeutsch which is spoken around Hamburg. My colleague Jan, who grew up and lived in Ostfriesland until the age of 16, said that actually, in reality, the local dialect is much further from basic German and the filmmakers obviously toned it down so that any German speaker could understand the film text most of the time. Naturally, we all understand "moin," their form of "Guten Morgen."
Ostfriesland is in the most northwestern corner of Germany, on the North Sea, part mainland and part six small islands. Farming and fishing were always the main occupations, although tourism has grown quickly.
This film premiered at the Filmfest Hamburg 2016. Another film, Welcome to Norway, opened two weeks earlier, and deals with the same topic from a Norwegian point of view. By comparison, this German version of interaction with foreigners seems more relaxed, funny, and personal in the sense that you could imagine being integrated into the group. (Becky Tan)