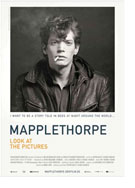 Mapplethorpe: Look at the Pictures
U.S.A./Germany 2016
Opening 3 Nov 2016
Directed by: Fenton Bailey, Randy Barbato
Writing credits:

This revealing documentary of the controversial photo-artist Robert Mapplethorpe comes literally from the horse's mouth. Why does this film have the voice of Robert Mapplethorpe even though he died in 1989? The highly experienced and award winning director-team Fenton Bailey and Randy Barbato have, among their accomplishments, subjects like Tammy Faye Bakker, Monica Lewinski, and the story of The Party Monster, which is based on the true story of Micheal which showed at the Berlinale. Both Bailey and Barato said that when they started collecting all the information on Mapplethorpe they quickly realized that he had befriended many journalists who taped his story and wrote about his work. It was his way of becoming famous. At first they didn't really like the guy, but by the end, they had changed their minds. His intensity of ambition for making art and wanting to become famous was phenomenal.
It is not a surprise that this documentary starts off with the voice of Senator Jess Helms, ranting and raving on how depraved his work is, and questioning the validity of his work as a piece of art. Basically Helms was declaring war on the art world, which still made an impact on the public fund in many sectors of the culture and arts in our society.
The film takes a look at his history going all the way back to his Catholic family's background, which seemed pretty safe and stable. Probably the most remarkable thing about that time period was that he was the pogo stick champion of his neighborhood and thus foreshadowed his endless bounds of energy that poured into his art work as well as his radical sexual life style. This ambition shows how he managed to get where he wanted to be but at the same time the costs that came with that claim to fame. It is a documentary that shows the dark side of the artist but at the same time shows the brilliance of his work.
Ironically I am currently reading Just Kids by Patty Smith which paints a completely different picture of Robert Mapplethorpe. So check out the film and the book. Both of these sources will take you on a trip behind scenes of Robert Mapplethorpe's life. (Shelly Schoeneshoefer)