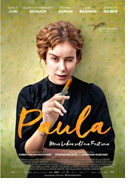 Opening 15 Dec 2016
Directed by: Christian Schwochow
Writing credits: Stefan Kolditz, Stephan Suschke
Principal actors: Carla Juri, Roxane Duran, Albrecht Schuch, Stanley Weber, Joel Basman
"If you don't believe in me, I do," is Paula's (Carla Juri) self-assured answer to her father who doubts that a woman can become a successful painter. He would rather see his 24-year old daughter as governess teaching children. This is the year 1900. She grew up in a sophisticated household and all she wants to do is draw and paint. Her father allows her to spend the summer in the village of Worpswede (near Bremen in northern Germany) where a group of painters live in an "artists' colony". Fritz Mackensen (Nicki von Tempelhoff), one of the founders and the most famous one at the time, instructs spoiled daughters of the bourgeoisie. Paula is different. He criticizes her broad brush strokes and rudely tells her that "women will never produce anything creative apart from children". Luckily, she befriends Clara Westhoff (Roxane Duran), a fellow woman painter. Both believe that they can be just as good – or better, as Paula says – than the men who bully them. They are ambitious and hard-working without missing out on having much silly fun together.
Fellow painter Otto Modersohn (Albrecht Abraham Schuch) is fascinated by Paula's naive expressionistic style and her enthusiasm. Paula too is drawn to the recently widowed man who lovingly cares for his little daughter. A tender love develops between the quiet, already well-established painter, and the high-spirited young woman. Paula is over the moon when they get married. She now has her own studio in Worpswede surrounded by their friends and many visitors. The famous German poet Rainer Maria Rilke (Joel Basman) is one of them. He falls in love with Clara and after their marriage they move to Paris.
Paula paints, like she is possessed, for long hours of the day, but nobody understands her paintings, earning her only devastating comments. She loves her husband but his attitude towards her is frustrating and is seriously straining the marriage. Apart from her urge to produce "three good paintings before I die" she is pining to have a baby. Cruelly, her husband has not even made her "a woman". On her 30th birthday she decides to leave for Paris. Her friend Clara is working in Rodin's studio but is no longer married to Rilke. Apart from enjoying the vibrant bohemian life, the two women experience hard times in a men's world. Paula is not to be discouraged. She enrolls at L'École des Beaux-Arts where she meets the charming George who not only shows her sexual pleasures but also introduces her to Cezanne's paintings. Husband Otto begs her to return but Paula wants to be free of him. When Otto comes to Paris instead, he finds her in a poor condition surrounded by all her paintings. Only now does he realize that SHE is the greater artist. They rediscover their strong bond of love deciding on a new beginning in Worpswede. Her wish for a child is fulfilled but sadly she pays with her life.
This engaging biopic is filmed in a wide range of different tones from shy romantic love to frustration, from boisterous and comical scenes to hardship and sadness as captured by Frank Lamm's sensitive lensing. Designer Frauke Firl's gaudy costumes in the style of 19th century Art-Nouveau make an eye-catching contrast to Paula's modest aesthetic paintings. The fabulous Carla Juri (recently seen in Morris from America) perfectly captures the intensity of the painter's life which is full of ecstasy, inner pain as well as joyous outbursts and gentle love.
Paula was years ahead of her time. When she died in 1907 she left 750 paintings and over 1,000 drawings. Paula Modersohn-Becker had been recognized for her pioneering work by becoming the first female painter with a museum devoted exclusively to her own work. (Birgit Schrumpf)