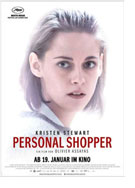 Opening 19 Jan 2017
Directed by: Olivier Assayas
Writing credits: Olivier Assayas
Principal actors: Kristen Stewart, Lars Eidinger, Sigrid Bouaziz, Anders Danielsen Lie, Ty Olwin
If one hears "personal shopper" one tends to think of a glamorous world where the rich and beautiful have no time to do their own run through the fashion boutiques. But this is only a small part of the film. It begins with Maureen (Stewart) wandering through an empty mansion in the twilight of the evening hoping to get in touch with her dead twin brother who recently died of a heart attack. He was a medium and had promised to send her a sign from the other world. Doors are creaking, footsteps can be heard. Is this her brother? Maureen calls out to him. We feel her anguish and her uncertainty in interpreting the various sounds and fleeting images. The pace is slow, building up tension.
During the day Maureen rushes on her motorbike through the city of Paris returning with bags full of expensive shoes and extravagant dresses for her boss. She works for a famous designer, the demanding and arrogant Kyra (Nora von Waldstätten). There is always the temptation of breaking the big taboo by slipping into one of the glamorous dresses herself. Would that feel like another personality?
During a long train ride Maureen receives a mysterious message on her phone. It makes her think that it could be from her brother (or a creepy stalker)? She freely continues an intimate text conversation with the unknown caller. One wonders where this is leading to. Olivier Assayas' plot does not give any ready answers. The story remains open to interpretation. What is real, what is imagination? What is dangerous, what is harmless?
Kristen Stewart is seen on the screen for most of the film, delivering a sensitive performance. An excellent Lars Eidinger fills his part confidently as Kyra's bored but sly lover. This is an Art House movie with mystery and suspense. It switches unpredictably from drama to fantasy, from ghost sightings to thriller and back to drama. (Birgit Schrumpf)