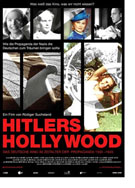 Opening 23 Feb 2017
Directed by: Rüdiger Suchsland
Writing credits:

This film celebrates the 100th anniversary of Ufa and reminds us of stars such as Hans Albers, Marianne Hoope and propaganda directors such as Veil Harlan, Hans SteinhoffHans S and many more. We also learn about Joseph Goebbels in his role as Propaganda Minister for the Nazis as well as his exploitation of the female actresses. Hitlers Hollywood takes us on a journey back in time to take a closer look at what kind of films were being made during this time period. It is interesting to know that, despite the fact that Germany was economically struggling due to WW1 and the Great Depression, those working in the film industry were receiving the highest salaries in the land. As National Socialism grew in political strength, many actors, actresses, directors, producers and camera men were forced to leave the country, since many of them were Jewish, and head to Hollywood or England. Only a few would become famous such as Marlene Dietrich, Peter Lorre, Fritz Lang, Billy Wilde and Hedy Lemarr, since many others couldn't deal with the new language, the new studio system and Unions which were common in the United States.
It is hard to imagine that over one thousand films were made in this time period. Suchsland highlights those who worked in this current political environment and explains how some participants subtly fought back while others said nothing. Films at the beginning of the war were dramatically full of illusion and gave a pleasing dream-like atmosphere that was a sharp contrast to the reality of the situation at hand. It reminds of our current situation at present where we are all taking selfies, posting them in the internet, watching series or films like La La Land rather than march in the streets and take action. Then in the late 1930s some of the most famous propaganda films were produced. There is a total 22 films which are still on the censorship list and can only be seen on special request and have to be viewed with an assistant who will explain the symbolic propaganda to you. It includes films such as like the anti-Semitic films Der Ewige Jude (The Enternal Jew) and Jud Süß and the Nuremburg Rally films such as The Triumphs of Will, Der Seig des Glaubens and Tag der Freiheit: Unser Wehrmacht which are three of the most famous propaganda films ever-made by the innovative woman director Leni Riefenstahl. Despite her genius, she paid a heavy price for her political position which followed her throughout her entire lifetime.
Suchslands also keeps track of what kinds of films were made, which were mostly drama, adventure and thrillers. The ideology always remained the same, showing the beauty of the Aryan race mixed with illusion and showing Hitler's new successful Germany. Most of my German film critic colleagues were not interested in this film since they have had years of this information being crammed down their throats. Although I have heard of some of these films, I have never seen any of them. I think it would be a wise decision for Suchsland to have this film translated to English so that it would have a chance to reach a broader audience, especially now due to our current world politics. History does have a way of repeating itself and a closer look at these films might remind us not to make the same mistakes. (Shelly Schoeneshoefer)