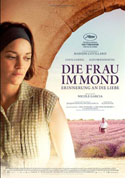 Die Frau im Mond - Erinnerung an die Liebe (From the Land of the Moon, Mal de pierres)
France/Belgium/Canada 2016
Opening 2 Mar 2017
Directed by: Nicole Garcia
Writing credits: Milena Agus, Natalie Carter, Jacques Fieschi, Nicole Garcia
Principal actors: Marion Cotillard, Louis Garrel, Àlex Brendemühl, Brigitte Roüan, Victoire Du Bois
The screenplay was based on a novel by Milena Agus, and this romantic film set in the 1950s was chosen for competition in the 2016 festival at Cannes. It is the kind of quiet little French movie I didn't think anyone was making anymore. For characters there are the prototypes of romance fiction: a wild and untamable country girl, a farm worker with a past (the strong silent type, with piercing blue eyes), and a handsome languishing soldier, the son of a general, for a budding romance in an exclusive upstairs-downstairs Swiss sanatorium.
All of that could have made this film unbearably kitschy, but actually it is quite enjoyable. This is mostly due to the restraint and subtlety of Marion Cotillard, who plays the main character Gabrielle. She does look a little old for the role of the young girl, but she manages to capture perfectly the sense of a young girl's longing and starvation for love and physical passion. She seems vulnerable and brave at the same time. Her husband José (Brendemühl) is impenetrable and intriguing, and the lover-patient André (Garrel) manages to seem like a convalescing god in his Olympus. I ended up rooting for everyone, impossible as that might be to resolve.
Visually the film is beautiful and changes settings along with Gabrielle's search for a grand passion. We have the panorama of Lyon and a glimpse of its unknown side streets, then panoramic views of the Provence countryside, scenes of the farm and the lavender fields. There is the beautiful, warm, rose-colored house directly on the Mediterranean that José builds for his wife, scene of picnics and swimming excursions. Then again detailed peeks into the Swiss sanatorium with all its corridors and balconies and their secrets.
I give Die Frau im Mond four stars for its beauty and its faithful adherence to the notion of grand passion and discovery. May every day be Valentine's day. (Ann Gebauer-Thompson)