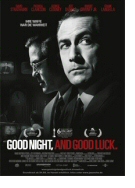 Opening 6 Apr 2006
Directed by: George Clooney
Writing credits: George Clooney, Grant Heslov
Principal actors: David Strathairn, Robert Downey Jr., Patricia Clarkson, Ray Wise, Frank Langella
In an address to the Radio and Television News Producers Association in 1958, the legendary television reporter Edward R. Murrow challenged the medium to live up to its responsibilities to the public during the Red Scare in America. "There is a great and perhaps decisive battle to be fought against ignorance, intolerance and indifference. This weapon of television could be useful. Stonewall Jackson, who knew something about the use of weapons, is reported to have said, 'When war comes, you must draw the sword and throw away the scabbard. The trouble with television is that it is rusting in the scabbard during a battle for survival.'"
It is this same inability of current journalists to ask the tough questions of anyone in power that led actor George Clooney to co-write and direct this film. To him that is the responsibility of the "fourth branch" of government, the media. Clooney feels that "everyone, even from The New York Times, should ask tougher questions." That void explains in part the reliance on comedian Jon Stewart for political coverage of current events. Stewart's own pleading with Larry King to ask better questions and demand better answers of his guests is telling.
David Strathairn portrays an impeccable Ed Murrow, giving his intelligent nightly news casts with Shakespearean quotes, a quiet smirk and elegant demeanor, his cigarette smoke curling around his head. We can only long nostalgically for such intelligent, brave and eloquent reporting. Mr. Murrow was supported by CBS owner William Paley in his on camera criticism of Senator Joe McCarthy, but he was personally accused of associating with communist organizations and took great personal risks to directly challenge McCarthy and his use of black lists and smear tactics.
The bigger question of how communism was a real threat to a free and open society was never answered then and is still not addressed in this film. Mr. Murrow himself was chided by Mr. Paley for having not dared to correct McCarthy for his error in stating that Alger Hiss had committed a crime of treason and not perjury, as Murrow was afraid to be seen as defending a communist, another example of the level of intimidation at that time.
Most of the film's scenes, shot in black and white, are either in the small and smoky CBS production rooms or are from the actual video clips of the packed Senate hearings led by Senator McCarthy. Between the scenes fraught with tension and resolve we are allowed a moment of pure musical entertainment with original Rosemary Clooney arrangements, George's aunt, sung by jazz singer Diane Reeves, with the 50s feel of smoke- filled lounges.
We return at the end to Mr. Morrow's address to the RTNDA. In reply to a reference by the Senator to Julius Caesar, Morrow commented, "had Senator McCarthy looked just three lines earlier he would have found this: 'the fault, dear Brutus, is not in our stars but in ourselves........ Good night, and good luck." (Patricia Ritz)