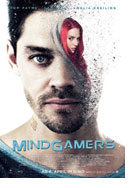 Opening 6 Apr 2017
Directed by: Andrew Goth
Writing credits: Joanne Reay, Andrew Goth
Principal actors: Tom Payne, Sam Neill, Dominique Tipper, Oliver Stark, Melia Kreiling
To my great regret, Mindgamers is a terrible movie. It belongs to a genre of pseudo-science/ psychological thriller films which attempt to explore aspects of the mind or sub-consciousness. Alternate reality movies are hard to do, and even the ones with a better story, better actors and bigger budget are often a letdown.
This film focuses on a group of young students who are part of a breakthrough study and have found a way to connect through a neural network and share their motor skills. They are essentially sharing their minds, all in the pursuit of advancing mankind. This mind sharing is exhibited throughout the film in a number of randomly placed group choreography and parkour scenes that have no artistic merit and do nothing to advance the plot in any way.
Of course there are sinister forces at bay that have other plans for them, but the bad guys, who are portrayed as some weird religious cult borrowing its symbols from the Catholic church, is such a cliché of anti-religious propaganda it is sad. The cool, young, attractive scientists are juxtaposed with evil, sinister, old, white men in long robes and staffs (which they also use to kill people); this is utterly boring and unoriginal.
On a last note, another thing that puzzled me was the strange amount of gore in the film. I almost wonder if the director was trying to make a subtle commentary about the invasiveness of technology in our lives in a very literal way. If so, it was rather too graphic for me, and again did not add anything except for shock value to the final effect. (Nava Berg)