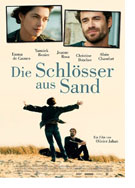 Die Schlösser aus Sand (Les châteaux de sable)
France 2015
Opening 27 Apr 2017
Directed by: Olivier Jahan
Writing credits: Diastème, Olivier Jahan
Principal actors: Emma de Caunes, Yannick Renier, Jeanne Rosa, Alain Chamfort, Christine Brücher
Eleanor (de Caunes) goes to her family home in Côte d'Armor, Brittany, France. Her father has died and Eleanor has decided to sell the house with the help of real estate agent Claire Andrieux (Rosa). She also seeks support from her former boyfriend Samuel (Renier). They discuss the process of cleaning out and renovating the house in order to put it on the market.
"Discussion" is probably the best description of the plot as the participants pick apart and analyze various topics such as Eleanor and Samuel's former relationship, their remembrances of fun times in the house, Eleanor's father (who reappears in a dream), her profession as a photographer, as well as Claire's efforts to finalize the sale. Then there are the various couples who view the house with the intention to buy on their own terms. My favorite couple was Bill and Alistair and their dog. One woman appears frequently in the guise of a potential buyer, but actually in order to gain access to photos of her eight-year love affair with the father; old letters remind of past experiences.
Luckily, when the story seems to meander into incomprehension, a voice-over sets us back onto the right track. The lives of the protagonists seem shaky, a situation which carries over into the general impression of the film with much sitting, talking, and drinking. This is perhaps not so surprising considering the title, which seems to reflect a weak foundation: The Castles in the Sand. This is also the title of a popular song in France, sung by Mireille Mathieu and others.
This is a film for lovers of French films in general, those with the patience to sit it out and even perhaps find at least one choice bit to make up for the frustration of going nowhere. (Becky Tan)