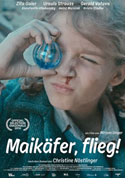 Opening 27 Apr 2017
Directed by: Mirjam Unger
Writing credits: Sandra Bohle, Christine Nöstlinger, Mirjam Unger
Principal actors: Paula Brunner, Hilde Dalik, Zita Gaier, Konstantin Khabenskiy, Lissy Pernthaler
Maikäfer, flieg! is based on Christine Nöstlinger's book about her childhood experiences at the end of World War II in Austria. (English title: Fly Away Home). Though narrated by nine-year-old Christl (enchanting Zita Gaier), this isn't a children's film but gives great opportunity for discussion with children.
Bombed out in Vienna, Christl 's mother flees with her two daughters to the countryside to an abandoned villa where she once worked as a household employee. With the soon-to-arrive owner of the villa and her young son and the wealthy next-door neighbors, they are awaiting the end of the war, not knowing what to fear more, the German army or the Russians.
The original title is reference to a bittersweet lullaby — sweet the soothing melody, bitter the text. It tells a child that its parents won't return: father is at the frontier, mother left behind in a razed country; the refrain is a nonsensical, detached "fly, maybug fly". Christl sings it like generations of children before her, heartbreakingly accepting or oblivious of its meaning. Unlike adults, the only reality these children ever knew is war. It is a perspective that needs to be told.
This well-cast film (Nicole Schmied) is touching without ever being sentimental. Much is owed to the camera (Eva Testor) and Mirjam Unger's direction, especially that of Christl. She is curious, courageous and fearless, but also rebellious and infuriatingly stubborn, bringing her parents to the brink and all of them in danger. (Carola A)