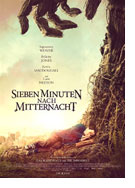 Sieben Minuten nach Mitternacht (A Monster Calls)
U.K./Spain/U.S.A. 2016
Opening 4 May 2017
Directed by: J.A. Bayona
Writing credits: Patrick Ness, Siobhan Dowd
Principal actors: Lewis MacDougall, Sigourney Weaver, Felicity Jones, Toby Kebbell, Ben Moor
A Monster Calls is an adaptation of an illustrated story for older children by Patrick Ness that was published in 2011. It won multiple awards for children's fiction in the UK, and Ness adapted his novel for the screen in a way that manages to transform the static images (by illustrator Jim Kay) from the book into a moving picture that conveys the magic power of storytelling.
Conor O'Malley (MacDougall) is a 12-yr old English boy who lives alone with his mother in a small town. Very quickly we realize that Conor is going through an incredibly rough time. His mother appears to be bed-ridden – and adult viewers will understand that she's very ill, given the amount of medication she's taking – and Conor is left fending for himself. Bullied at school, he retreats into his drawings and daydreams, which start to become vivid nightmares. Every night at 12:06, an ancient yew tree in the old cemetery visible from his bedroom window, tears its roots out of the ground and comes to life as a wise but terrifying monster, voiced by Liam Neeson.
The film intersperses Conor's nightmares, in which the monster tells him three tales of human foibles, with scenes of Conor's mother getting sicker and sicker. His grandmother (played beautifully by Weaver) explains that Conor will have to come live with her because his mother is not going to get better, and Conor slowly begins admitting to himself that his mother is dying. It's no spoiler to say that his mother does in fact die, as the movie is clearly headed in that direction.
It's the yew tree monster that forces Conor to acknowledge what's happening, and provides him with a scary sort of escape. His stories are odd fairy tales that confuse Conor because they don't offer clear morals or advice for him to follow – the tree is a physical manifestation of a child's fear and confusion and, ultimately, the bringer of cathartic grief.
These vivid sequences with the monster are beautiful and shocking to watch, and are not in themselves too scary for older children. But the emotional drama and the theme of a beloved, young parent slowly wasting away, are heavy and, at times, laid on rather thickly. Conor is 12 in the film and viewers should be at least this old. The movie felt quite long – another reason it's best suited to teenagers and adults – and by the end I felt worn out from weeping. The images from A Monster Calls will linger for a long time, a testament to the beautiful dark power of the movie. (Diana Schnelle)