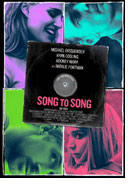 Opening 25 May 2017
Directed by: Terrence Malick
Writing credits: Terrence Malick
Principal actors: Ryan Gosling, Rooney Mara, Michael Fassbender, Natalie Portman, Cate Blanchett
Just to set the record straight, for all those who expected something like a documentary about the Austin indie music scene, you will be disappointed. This is not exactly a movie about music, but if you put that aside and dive into the ethereal landscape created by Malick, which he is so loved for, you might find something else to enjoy.
The movie tells you that it is about music, but doesn't show you music up straight. There are plenty of energetic, whimsical scenes depicting behind the scenes coverage at Austin music festivals. Plenty of big and little names have cameo appearances, but the artists are used as references and do not showcase their musical abilities, which might have distracted from the actual story.
My only strife is if you are going to draw two of your main characters as aspiring musicians, it would be nice to know if they are worth their salt. Or just even see them in action holding an instrument, making music, to add a little authenticity. BV (Ryan Gosling) was shot in a few scenes fiddling around on a piano or guitar, but Faye (Rooney Mara) is a total music enigma, I couldn't even guess what her sound is like or if she has any talent; for all the viewer knows she, cannot hold a tune to save her life.
Having said that, what I loved about the movie is that it radiated the best aspects of youth: boundless energy, the feeling that everything is open and your whole life ahead of you. The viewer is easily transported through time to those raw beautiful feelings of his or her past, and for that, Malick, I thank you. (Nava Berg)