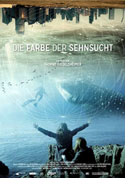 Die Farbe der Sehnsucht
Germany 2016
Opening 1 Jun 2017
Directed by: Thomas Riedelsheimer
Writing credits: Thomas Riedelsheimer

The documentary Die Farbe der Sehnsucht follows eight different people living in Qatar, Portugal, Germany, Mexico and Japan. What are their dreams or how would they like to live their lives?
The 40-year old Layla lives in Qatar and is secretly writing love stories. Her dream is to feel the wind in her hair by just running around with her children instead of having to be covered up at all times.
Dona Mingas was born on Cape Verde Islands and left for Lisbon at the age of 19, looking for a better life. Now she is 50 years old but still yearns for her homeland. Not so the young graffiti sprayer Tazy. Despite being called a "Black African" and not being accepted by the Portuguese, he has no desire to live in the land of his forefathers.
Julius, a young man from Munich, Germany, comes from a well to-do household, is a composer and plays a number of instruments. His musical arrangements have been woven into the film and accompany most scenes. This intelligent and sensitive young adult wants to make the world a better place.
In stark contrast is the temperamental Alfredo living in La Paz, Mexico. The ocean is his passion which he shares enthusiastically with Lisa, his great love.
In Osaka's biggest slum, Kamagasaki, a group of homeless men gather not only for a cup of hot tea but also for listening to verse by Tada-San. They share some time of laughter and respectful camaraderie at Kanayo Ueda's "Cocoroom". The retired police officer Yukio Shinge watches the rocky shores of Tojinbo, Japan, with his binoculars. This area has a sad reputation for suicides. He interferes with any attempt and tries to help these desperate people.
This is a slow moving film in which director and author Thomas Riedelsheimer offers a kaleidoscope of stories. With his photographer's eye he catches impressive pictures of vast dessert dunes or underwater wonders. (Birgit Schrumpf)