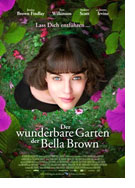 Der wunderbare Garten der Bella Brown (This Beautiful Fantastic)
U.K. 2016
Opening 15 Jun 2017
Directed by: Simon Aboud
Writing credits: Simon Aboud
Principal actors: Jessica Brown Findlay, Andrew Scott , Jeremy Irvine, Tom Wilkinson
This is a garden fairy tale that can hold its own with all the other magical filmed garden stories we know so well (The Secret Garden, Enchanted April, Green Card…). We hear a narrator telling us how it all came about: Bella Brown (Findlay) was abandoned as a baby and nurtured in a cardboard box by ducks and a man on a bicycle, and, after all that, she does turn out a loner with a compulsive sense for order. What else could anyone expect?
Bella, now a young woman who would like to become an author, fears the walled garden she let go to seed right outside her window, and locks her door ten times over to prevent any outside havoc from entering the house. It is only when two rather chaotic young men enter her life (Scott and Irvine) that she begins to try out new experiences and allow for a little disorder. As in any good fairy tale there is also a task that needs doing: the garden must be restored to beauty or she will be evicted in a month. Bella sets herself to the job.
The casting was done true to type: Jessica Brown Findlay is so well-known as the unconventional daughter from Downton Abbey it is hard to imagine her Bella not succeeding in any task she applies herself to. Wilkinson is wonderful as the grumpy old neighbor Alfred, who accuses Bella of plant murder and teaches her how to weed. Andrew Scott is an original with a great sense of timing as the reluctant Gaelic cookery artist.
I deducted a star for the slightly irritating beginning, and because Bella actually chose to plant grass in her garden. Whoever heard of a true gardener doing that? Next time, Bella, delphinium! (Ann Gebauer-Thompson) (Ann Gebauer-Thompson)