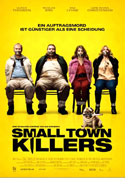 Small Town Killers (Dræberne fra Nibe)
Denmark 2017
Opening 6 Jul 2017
Directed by: Ole Bornedal
Writing credits: Ole Bornedal
Principal actors: Nicolas Bro, Ulrich Thomsen, Mia Lyhne, Lene Maria Christensen, Marcin Dorocinski
Ib (Bro) and Edward (Thomsen) are a couple of small town builders who cannot think about much else besides sex and making undeclared money. Gritt (Lyhne) and Ingrid (Christensen) are their bored wives who lust after their gay salsa teacher.
The general unhappiness of their lives leads the husbands, while completely drunk, to hire a hitman to kill their wives, so they are free to run away with all their undeclared money and have all the sex they want. Not to be outdone, their drunken wives devise their own plan.
The arrival of Igor Ladpolny (Dorocinski), the drunken Russian hitman, is on his own quest to deliver all those who are unhappy from this earth. While he is with Ib and Edward, Igor meets many who he believes are unhappy.
This Danish black comedy is cringe worthy and delivers some inappropriate scenes that do not help this movie, as it limps to an end. (Christine Riney)