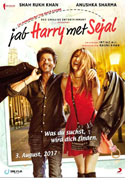 Jab Harry met Sejal
India 2017
Opening 3 Aug 2017
Directed by: Imtiaz Ali
Writing credits: Imtiaz Ali
Principal actors: Shah Rukh Khan, Björn Freiberg, Martavious Gayles, Anushka Sharma, Chandan Roy Sanyal
Harinder "Harry" Singh Nehra (Khan) is a tour guide in Amsterdam. After he drops his latest Indian tour group at the Amsterdam airport, he is ready for some down time. Unfortunately, for him, Sejal Zaveri (Sharma), a member of his last tour, has other plans for his time.
Sejal has discovered that her engagement ring is missing and will not go back to India without it. Believing the ring has to have been lost sometime during her family's European tour she insists Harry help her retrace their steps.
Along the way, while visiting many romantic destinations, Harry and Sejal have many quarrels, learn more about each other and it seems begin to fall in love. Since, Sejal is engaged to be imminently married in India, neither reveal their true feelings.
This rather blatant romantic comedy showcases two of Bollywoods most popular actors, Shah Rukh Khan and Anushka Sharma. In the past this pairing has been hugely popular but falls flat in this rather long and sometimes tedious journey to finding themselves and love. (Christine Riney)