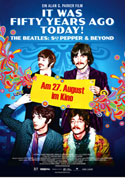 It Was Fifty Years Ago Today... Sgt Pepper and Beyond
U.K. 2017
Opening 24 Aug 2017
Directed by: Alan G. Parker
Writing credits:

On the first day of June in 1967, the Beatles released their studio album Sgt. Pepper's Lonely Hearts Club Band, possibly the most popular pop album of all time. This documentary celebrates the 50-year anniversary of that event and includes interviews with family members, friends, and people involved professionally in the album.
Many bits of information were totally new to me, a Beatles fan from day one. Director Parker follows the tours of the Beatles up to 1967, and shows their subsequent urgent need to develop artistically in a quieter environment after their deafening road tours. In 1967 no group ever spent more than a week or two recording an album, and so it was totally unheard-of to spend six months in a studio developing and recording an album as an artist. Parker shows how innovative it all was at the time, but also how boring it was for the Abbey Road technicians hanging around on a day-to-day basis.
Parker spends a long time on the process of the cover planning, which seems to have been incredibly intricate. The cover contained hundreds of hidden clues and jokes, a cut-out mustache on the inner flap, as well as the complete lyrics to all of the songs. It was a revelation to me that the layout around the big brass drum was based on a real photograph of Paul McCartney's father with his drum surrounded by the members of his own dance band.
Interestingly, Parker's interviews show McCartney as the true avantgardist of the group, not Lennon. McCartney developed a keen sense of art and sensitivity to new trends in artistic circles from a very early age, and he pursued these interests actively. Lennon is depicted as a genius but a bit of a couch potato who used the input he got from McCartney for inspiration.
The relationship of the group to Brian Epstein is explored, and the reasons for his suicide. There is a long chapter on the Maharishi phase and another about the crazy entrepreneurship of Apple in the era of pop fashion and homemade creative products and ideas.
Parts of this documentary are highly interesting, but it never actually follows a clear path and becomes chaotic after an hour or so. It is unsatisfying in another way too: so much of the original material is never shown: we never actually SEE the cover or HEAR any of the songs on the album, and that is a serious omission. If Parker wanted to avoid paying royalties or was not given permission he should make this an issue in the film, otherwise the viewer is left puzzled and straining his memory for all the references tossed around. All in all a disappointment. (Ann Gebauer-Thompson)