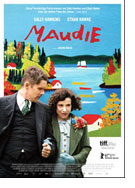 Opening 26 Oct 2017
Directed by: Aisling Walsh
Writing credits: Sherry White
Principal actors: Sally Hawkins, Ethan Hawke, Kari Matchett, Zachary Bennett, Gabrielle Rose
Aisling Welsh's film Maudie, scripted by Sherry White, is inspired by the life of one of Canada's best known folk artists, Maud Lewis (born Dowley), who lived in a small village in Nova Scotia (1903 – 1970).
Maud is crippled by juvenile rheumatoid arthritis and lives with her aunt who treats her like a child. The young woman in her 30s is longing for independence. On the spur of the moment she applies as household help for Everett, a local fish-peddler. He is a rough man but Maud is adamant to make his dilapidated wooden shack her new home.
When she finds some left-over paint, she starts decorating walls with birds and flowers. Soon every available surface shows a picture. Ill-tempered Everett lets her continue. After a while he even gives in to marriage. Maud turns out to be the stronger personality by helping Everett with organising his life. She endures his insults, his moods and rude behaviour as she is fully aware that they need each other, that they are dependent on each other. Her painting style becomes widely known after a newspaper article and a television interview. She can hardly paint fast enough to satisfy the demand. Now it is Everett who sweeps the floor and peels the potatoes.
Sally Hawkins gives a remarkable performance of a woman who looks at life's opportunities with an open mind and a strong will. Ethan Hawke is the unpleasant, grumpy Everett. These two accomplished actors give an unsentimental but emotionally touching performance of an unlikely couple. Cinematographer Guy Godfree's majestic, windswept landscape reflects the isolation, his eye for detail adds depth. (Birgit Schrumpf)