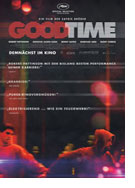 Opening 2 Nov 2017
Directed by: Benny Safdie, Josh Safdie
Writing credits: Ronald Bronstein, Josh Safdie
Principal actors: Robert Pattinson, Benny Safdie, Jennifer Jason Leigh, Taliah Webster, Barkhad Abdi
The Nikas brothers, Connie and Nick, plan a bank heist. From the start you know it will not end well. What you don't expect is how bizarrely wrong things go.
Constantine 'Connie' (Pattinson) encapsulates a low life who doesn't understand his own limits. Unfortunately, for his learning disabled brother Nick (Safdie), his limits are continually exceeded during a night of ridiculous plans. Each plan worse than the last. Corey Ellman (Jason Leigh), Connie's privileged but troubled girlfriend, endeavors to help but is no more able then her drug and drink addled brain. Throughout this long night of 'crime' Connie preys on the good, the weak, the young and the damaged to help his brother. Their relationship is a truly poisonous love that doesn't help anyone, including Connie.
If you liked Robert Pattinson in The Twilight Saga, be warned that the only similarity with this film is that it seems he prefers the dark. He delivers as the low life criminal; his acting ability cannot be disputed after this performance.
Worth noting: There are many close ups in the film so don't choose a seat too close to the screen. (Christine Riney)