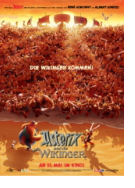 Asterix und die Wikinger (Asterix and the Vikings, Astèrix et les Vikings)
France/Denmark 2006
Opening 11 May 2006
Directed by: Stefan Fjeldmark
Writing credits: Jean-Luc Goossens
Principal actors: Roger Carel, Lorànt Deutsch, Sara Forestier, Jacques Frantz, Pierre Palmade
According to a myth that fear sprouts wings, the Vikings set off to learn fear since flying has its advantages. Chief Maulaf plans to conquer the realm from the air as soon as he has learned to fly. He assembles a group of warriors and they break off to kidnap the world's worst coward to teach them fear. The scheming charlatan Kryptograf, who secretly plans to upset the chief and come into power himself, joins the party, as does is son Olaf. Olaf makes up for low intelligence with an overabundance of muscles and dreams of his reward: the hand of the chief's daughter, Abba, in marriage. Abba, pretty, young and self-confident, joins in disguise as they go from the snow-encrusted regions of the north to the mild, southern country of the Gauls.
Meanwhile, Majestix, chief of the Gauls, is in his famous sea-caressed village, where the inhabitants have always been able to resist the Roman legions, and who are well-known for their love of partying and rough-housing. His nephew Grautvornix visits them from Lutetia (which much later will be renamed Paris). This spoiled and wimpy city boy is supposed to be turned into a fearless warrior. Asterix and Obelix take on this impossible task. The youth has his head in the clouds and is more interested in dancing and hip hop than courageous clashes with wild animals from the woods or with the Romans. For him everything is too provincial and boring. Grautvornix takes his leave and Obelix gives him a Hinkelstein as a souvenir. His flashy sport car collapses under the weight of it and Olaf, that mentally challenged Viking, awaiting in the bushes, thinks that his time has come. He mistakes Grautvornix for the long-sought Grand Master of Fear and captures him.
Grautvornix's carrier pigeon SMS returns to the village; Obelix recognizes the danger and promises to retrieve the boy. He and his faithful dog Idefix follow the Vikings into their raw, uninviting realm and come upon the Grand Master of Fear at a banquet, who is not amused, having been disturbed during a rock performance.
Abba is also angry. As an emancipated woman, she refuses to let herself be married away, especially not to stupid Olaf. Abba and Grautvornix have romantic inclinations and decide to marry in the land of the Gauls. The Vikings finally learn the meaning of fear, when the troubadour Trubadix sings, causing the Northerners to suffer excruciating nausea and they flee in panic. Fear has got hold of them. But they still can not fly.
An international team under the direction of Stefan Fjeldmark and Jasper Møller created a wonderful cartoon film, a masterpiece supported by modern animation techniques. Everything is perfect from the individual characters and the music to the German voice-overs. Each small detail is lovingly created and the message of the film: generational conflicts and international understanding come across subtly and professionally. (translated by Becky Tan) (Geysa Wiemann)