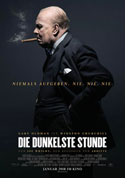 Die Dunkelste Stunde (Darkest Hour)
U.K. 2017
Opening 18 Jan 2018
Directed by: Joe Wright
Writing credits: Anthony McCarten
Principal actors: Gary Oldman, Lily James, Kristin Scott Thomas, Ben Mendelsohn, Ronald Pickup
During four weeks in 1940 Winston Churchill changed the course of world history. We all know the historical facts but Anthony McCarten's well-structured script gives an intimate insider look into the inner struggle of the newly appointed British prime minister who must decide whether to fight against the seemingly unstoppable Nazis or enter into peace negotiations with Hitler.
A grumpy and ill-tempered Churchill (Oldman) is breakfasting in bed with whiskey, eggs, bacon and his cigar. At the same time he is dictating to his new secretary Elisabeth (James) who is nervously hammering into her typewriter. He has just moved into No. 10 Downing Street, after the Conservative Neville Chamberlain (Ronald Pickup) has stepped down from office, but already his colleagues, led by the Earl of Halifax (Stephen Dillane), are plotting against him. The only loyal ones seem to be his young secretary and his wife Clementine (Thomas) who understands her often difficult but brilliant husband. King George VI (Ben Mendelson) is doubtful, reluctantly making arrangements to meet on a weekly basis. When he suggests Monday at 4:00 pm, Churchill replies that this is the time he takes his nap but one o'clock would suit him.
Soon news from Europe is getting worse. Three hundred thousand British troops are being pushed to the sea at Dunkirk. Now Churchill is under extreme pressure. In his underground office he shuffles through the narrow tunnels or argues in the smoky rooms of the war headquarters. Shutting himself into the WC, where he has his telephone, his drinks and his cigars, he makes a desperate call to US president Franklin D. Roosevelt. Can he help out with a few airplanes? Franklin is sorry; his hands are tight by his state's neutrality. Churchill is frustrated but also frightened; he rants and raves, whilst his enemies within the war office are pushing for peace negotiations with Hitler. Churchill does not believe that this would give Britain peace and freedom. Instead, he urges to organize all available "private little vessels" to sail from England to rescue the troops. He holds his famous speech at parliament, energizing and mobilizing the public to save their island and fight till victory.
The film does not linger on pictures of war but concentrates on punchy and often funny dialogue and the flashy camerawork of Bruno Delbonnel. Heated debates are treated like a battlefield with explosive shouts adding excitement. There is tremendous energy in Joe Wright's portrayal of the famous Churchill which is not totally flattering but makes for a humorous, stirring and entertaining historical drama, filmed like an action movie with a speed that keeps you on your toes for the entire 102 minutes.
BAFTA actor Gary Oldman does not look like Churchill, but his transformation is complete. He brings him to life with enthusiasm and a boisterous performance but also has a feeling for the quiet moments, the depressive and miserable mood, aware of the dire situation of the nation. Oldman's acting is a tour de force in a role that has already been played by many actors – but never like this before. (Birgit Schrumpf)