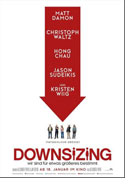 Opening 18 Jan 2018
Directed by: Alexander Payne
Writing credits: Alexander Payne, Jim Taylor
Principal actors: Matt Damon, Christoph Waltz, Hong Chau, Kristen Wiig, Rolf Lassgård
Alexander Payne brings us a film that touches on many elements that are impacting our day to day life, in a totally original way.
Five years after a scientist discovers a way to shrink people to help save the world from overpopulation there is a thriving business in a smaller world. This new world has many elements that the Nobel-prize-winning scientist did not envisage; capitalism, brutality, inequality, illegal immigration, the haves and the have nots. These many issues from our normal world, not surprisingly, find a place alongside climate change and the inevitable destruction of humanity as we know it.
The film focuses on Paul Safranek (Damon) and his wife Audrey (Wiig), who make a huge decision to become small in order to get ahead. In the big world they are just an ordinary couple who live in his childhood home, go to work 9-5 and want to get off the treadmill and into the fast lane. By becoming small they can have everything they desire and more. However, things do not go as planned.
Living alongside Paul, in the small world, are many individuals and communities who came to the small world for various reasons, not always linked to the desire to save the planet. Notably, Ngoc Lan Tran (Chau) a Vietnamese dissident who was arrested and made small as punishment by the Vietnamese government. Also, Dusan Mirkovic (Waltz) who chose to be small to exploit the illegal opportunities and wealth available in the small world.
The film provides much to contemplate for days after the closing credits have rolled. A must see for anyone who believes our world is in need of help. (Christine Riney)