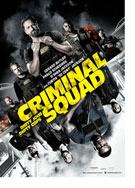 Criminal Squad (Den of Thieves)
U.S.A. 2018
Opening 1 Feb 2018
Directed by: Christian Gudegast
Writing credits: Christian Gudegast, Paul Scheuring
Principal actors: Gerard Butler, Pablo Schreiber, O'Shea Jackson Jr., 50 Cent, Meadow Williams
Los Angeles, the bank robbery capital of the world, is where Nick Flanagan (Butler) is head of the Major Crime Squad in the County Sheriff's Department. Nick's elite squad is on the trail of the most successful gang of bank robbers in Los Angeles. This crack criminal gang is led by Merrimen (Schreiber) who with his crew Bosco (Jones), Donnie (Jackson Jr.), and Levi (50 Cent) are planning the most daring heist yet: a takedown of the Los Angeles Federal Reserve Bank, a robbery which has been attempted, but never successfully. Both Nick and Merrimen are willing to do anything to win. Nothing is off limits or too dirty for either crew.
At times it is not clear who are the 'good guys' and who are the 'bad guys'. Both gangs play dirty and loose with their weapons and the lives of civilians, seemly unable or unwilling to distinguish between their time in the military and the local streets of a Los Angeles. It is all-out combat. If you are a fan of bank heist films, this is for you. (Christine Riney)


Second Opinion

The elite unit of the LA County Sheriff's Department is involved in a plan to stop thieves from robbing the safest Federal Reserve Bank. Ray Merriman (Schreiber), Levi (Jackson) and Donnie (Jackson Jr.) were successful in bank robbery. This plan seems to be impossible due to the highest security of the bank. But ....it is the elite crew of bank robbers. The huge amount of money in the safe was the motivation. Since this is the first time, it should be precise and perfect. Cop Nick Flanagan (Butler) uses legal and illegal methods and his elite unit starts a hard and aggressive action against this dangerous and risky adventure.
This very interesting, noisy, scary thriller keeps your attention. Death, blood and action are always present in this film. (Geysa Wiemann)