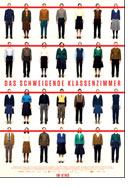 Das schweigende Klassenzimmer (The Silent Revolution)
Germany 2018
Opening 1 Mar 2018
Directed by: Lars Kraume
Writing credits: Dietrich Garstka, Lars Kraume
Principal actors: Jonas Dassler, Judith Engel, Tom Gramenz, Michael Gwisdek, Max Hopp
When a group of high school students in East Germany in 1956 hold a moment of silence at school in solidarity with the Hungarian uprising against the Soviets, they are unprepared for the consequences. Their teacher reveals their civil disobedience to his superiors, and the situation quickly devolves into a full-on communist investigation. As they are all on the cusp of completing their studies, there is the additional risk that their educational future might be taken away from them. Will the students overcome the oppressive policies of the GDR state, or will they become more of its victims?
Das schweigende Klassenzimmer is another in a long line of films which uses the complex and difficult history of the GDR to make an overly simplistic political statement about the evils of the socialist state. It hits all the right buttons to be successful in this regard: it is based on a true story, the students were fans of RIAS (the American Sector broadcaster), and they were unfairly treated by the GDR state. Throw in a dash of communists being bad towards the religious, and a surprisingly pro-gay Lutheran pastor, and the end result is the usual contrived and clichéd kitsch which is typical of most films made about this time period. Is there really a need for yet another film which whitewashes history, plays to extreme stereotypes, and introduces no new ideas or critical thought about a difficult historical topic? Undoubtedly it will be a popular film for the very reason that it is so unchallenging. However, for those who are more discerning, there are better ways to spend 111 minutes (Rose Finlay)


Second Opinion

In 1956 the German Democratic Republic (East Germany) was an independent country under the influence of the Soviet Union. Although the Wall dividing the countries would not be constructed until 1961, the politics still discouraged influences from the West. In the small town of Storkow in Brandenburg, high school seniors visited a friend, George, to listen illegally to news from the West. As a result they learned about the death of a favorite soccer player, Hungarian Ferenc Puskás during a demonstration in Budapest, Hungary. In class they decide to hold five minutes of silence in his honor. This small moment of "rebellion" attracts the attention, not only of their teacher, who considers it a typical teenager prank, but also the attention of the government's Head of Education who demands to know who is behind this impossible idea. All 19 students refuse to reveal a name and all face being expelled right before receiving their diplomas. How will this catastrophe end?
This true story is based on a book published in 2006 by one of the former students, Dietrich Garstka. It was filmed in former eastern Germany, Eisenhüttenstadt, and many of the film extras came from the area. Director Lars Kraume said that he wanted to include as many residents of former Eastern Germany as possible. Perhaps non-Germans (like myself) will appreciate the film more than Germans; I learned much about German history, even after having lived in the country for 56 years. For example, at the time, anyone could travel by train between the two parts of Berlin, something the students enjoyed doing. Naturally, their papers were checked at the border and questions asked about reasons for their travel. They pretended to have "visited grandfather's grave in the West." On the other hand, even today some Germans feel they have suffered enough through the Soviet influence on their lives, or even from German history in general; they tend to focus on the future and push aside the past. Perhaps, they will accept no good reasons to watch the film, which would be a pity, because it is worthwhile. (Becky Tan)