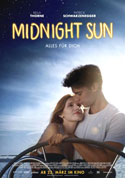 Opening 22 Mar 2018
Directed by: Scott Speer
Writing credits: Eric Kirsten
Principal actors: Bella Thorne, Patrick Schwarzenegger, Ron Riggle, Quinn Shephard, Nicholas Coombe
A beautiful girl dying from a rare disease – rare, at least in real life where life-threatening sensitivity to sunshine affects one in a million people. But, tragically romantic as it is, the disorder pops up fairly often in movies, and its latest victim is Katie (Thorne), a teenager who lives behind polarized glass and ventures forth to play guitar after sunset. Social deprivation has rendered her adorably sweet and unspoiled. And when she cute-meets the neighborhood boy (Schwarzenegger) she's had a voyeuristic crush on forever and the stage is set.
The glowing warmth of the sun pours down daily, and somewhat improbably, on their small town outside Seattle, lending a poignancy to Katie's deprived existence and underscoring the beauty and purity of every character, situation, and of course the central love affair. But fairy tale though this is, it succeeds for the same reason fairy tales do: it's a simple, well-paced story with recognizable characters, lovable and easy on the eyes. There are no villains here except for fate, which brings soulmates together and then…well, bring tissues. (Mason Jane Milam)


Second Opinion

Katie (Bella Thorne) plays guitar and loves to sing. Due to a rare genetic condition, she can leave home only at night. Sunlight is death for her. She lives together with her father Jack (Rob Riggle). During the day, she sits at her bedroom window and contemplates the beautiful boy Charlie (Patrick Schwarzenegger) skating on his way to school. Katie salls in love with him. During the night she leaves home to play guitar and get in touch with the world. One night, by chance, her dreams come true and she meets her beloved Charlie. Her life becomes colourful. She enjoys his company and forgets sickness. But the day comes and she has to tell him.
This true story is a fascinating, where music and the power of love give a phenomenal strength. The alented young actors bring us to an emotional and unforgettable film! (Geysa Wiemann)