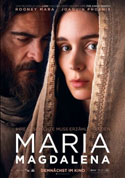 Maria Magdalena (Mary Magdalene)
U.K./Australia 2018
Opening 15 Mar 2018
Directed by: Garth Davis
Writing credits: Helen Edmundson, Philippa Goslett
Principal actors: Rooney Mara, Joaquin Phoenix, Chiwetel Ejiofor, Tahar Rahim, Ariane Labed
In the 6th century, Pope Gregory the Great painted a picture of Maria Magdalena as having the reputation of a fallen woman, possessed by seven demons, who was exorcised by Jesus, and who, as a reformed harlot, was a witness to his resurrection -- an image that we still have today. Director Garth Davis gives us women a perfect Easter present: This film presents a more realistic picture of who Maria Magdalena was.
Rooney Mara pairs up once again in a film featuring Maria and Jesus. Set in a small fishing village in Israel, Maria helps her family with fishing but also has the talents to help the midwife with complicated births. We see the daily lives of the family and note that women do not pray or go anywhere alone. Maria, from the beginning, walks to a different drum. She does not want to marry and after, coming into contact with Jesus, decides to follow him.
As a prophet, she opens up the world for Jesus, so that he finally sees the women's side, what they struggle with, what they are allowed to do or not to do. At this moment, all members of the community are welcomed. We see that Jesus has chosen Maria to be his witness during the crucifixion and resurrection. The film is a new Easter story that is politically correct, since even the current Pope has tried to correct the false image that we have of her.
The film is poetically beautiful where the characters wear lovely, delicate, linen clothes and Mara does a great job as Maria. The music is perfect, but something is lacking in the script so that we don't feel the final climax as anything amazing like it should be with this thematic ending. (Shelly Schoeneshoefer)