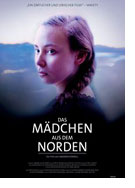 Das Mädchen aus dem Norden (Sami Blood, Sameblod)
Norway/Denmark/Sweden 2016
Opening 5 Apr 2018
Directed by: Amanda Kernell
Writing credits: Amanda Kernell
Principal actors: Lene Cecilia Sparrok, Mia Erika Sparrok, Maj-Doris Rimpi, Julius Fleischanderl, Olle Sarri
The Swedish-Sami director Amanda Kernell's feature debut reveals a little-known chapter of Sweden's colonial history during the 1930s. The coming-of-age story, inspired by the life of her own grandmother, gives the historical events a new perspective.
Christina (Doris Rimpi), an elegant elderly lady, reluctantly joins her son and granddaughter on a trip to Lapland, the northernmost region of Sweden. It is not her free will to go to the land of her birth, but there is a funeral to attend. She is a stubborn old lady avoiding talking to the local funeral guests. Alone in her hotel room, looking out over the pristine hills, the memory of her childhood overwhelms her: She is again a girl of 14 years called Elle-Marja (played by Lene Cecilia Sparrok), living with her family in tents near their free-roaming reindeer. She and her younger sister Nijenna (Mia Erika Sparrok) are sent away to a special "Samis only" boarding school where they are indoctrinated with the Swedish language and culture.
Elle-Marja is a bright girl thriving on the intellectual challenges of the school; she loves to study and seriously wants to fit in. Her teacher (Hanna Alstrom) recognizes her skills but withholds any books for further studies, instead treats her like a savage. "Your brains are smaller than ours," is her simple explanation. When governor officials visit the school, Elle-Marja is eager to please and proudly delivers her welcoming speech in perfect Swedish. What a disappointment, the visitors are not interested in any development but are here for phrenological studies. The children's skulls are measured. Next, they are forced to undress and are photographed naked in front of the entire class. This is one of the most disturbing scenes, effectively brought to the screen by cinematographer Sophia Olsson high-lighted with a minimalistic score by composer Kristian Eidnes.
At this time the young teenage girl begins to rebel against her traditional upbringing, against being different and considered inferior. When she sees a teacher's dress on the washing line she is quick to "borrow" it for a dance in the neighborhood. Niklas (Julius Fleischander), a young Swede, shows her kindness and she shyly experiences her first love. Elle-Marja's escapade is soon found out, making life even more difficult for her. She makes a sudden decision and secretly flees to Upsala, the next city. Elle-Marja is an enterprising teenage girl, mature beyond her years. She doesn't talk much but is keen to learn and to live the Swedish way. Despite her strong will, she is caught between two worlds. Her own folks see her behavior as betrayal, whereas the Swedes consider her inferior by birth.
Amanda Kernell's direction is very sensitive, almost with an understatement of the dramatic and highly emotional situations. The talented newcomer Lene Cecilia Sparrok manages to fill her character with charisma and intelligence but also shows her poetic side. At the film's ending, we return to today's 70-year old Christina. The question remains: How do you reconcile the new life with the old identity which will always be a part of you? The film showed at festivals from Hamburg to Sydney, Tokyo, Toronto, Venice and many more; it won prizes especially in the category of "Best First Film".
A note of interest: Many families of the Sami community still live mainly off their reindeer herds. Their land – crossed by the Arctic Circle – spreads over the north of Sweden, Norway and Finland. It is Europe's last wilderness with endless forests and high hills. About a quarter of Sweden's surface area is in Lapland with a population of 94.350 (Wikipedia 2009) living on 109,702 sq.km. The Chernobyl nuclear fallout in 1986 affected parts of the grazing land by contaminating the lichen, the favorite food of the reindeer. This resulted in a fundamental change in Sami living patterns. Unemployment runs high and many young people are seeking jobs in the larger cities. Despite large-scale assimilation into the dominant Swedish culture, one can find Sami minorities still maintaining their culture and identity. (Birgit Schrumpf)