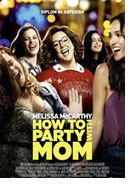 How to Party with Mom (Life of the Party)
U.S.A. 2018
Opening 5 Jul 2018
Directed by: Ben Falcone
Writing credits: Ben Falcone, Melissa McCarthy
Principal actors: Melissa McCarthy, Matt Walsh, Molly Gordon, Ben Falcone, Jacki Weaver
Deanna (Melissa McCarthy) and Dan (Matt Walsh) have just dropped off their daughter Maddie (Molly Gordon) at college to start her senior year, when Dan announces that he wants a divorce. Deanna only wastes a teeny little bit of time moping around before she decides to enroll in college herself to get the archeology degree that she had foregone in order to become a full-time mother. Now, what could be more fun than going to college with your very own daughter, attending the very same class?? Everything could be more fun if you ask the daughter, even though she loves her mom. Luckily Maddie's girlfriends see this much more relaxed and take Deanna under their wings. College costs money though, money Deanna doesn't have because Dan kept all assets in his name. Her new friends help with a plan to solve this little problem as well.
Overall the story lacks innovation and the "back-to-school" theme is not the only idea that has been recycled for this film. Still it should have been possible to create material to let McCarthy (and other talents) in the cast shine. Direction and script (McCarthy, Ben Falcone) fall short of making this happen. McCarthy is an exceptional comedian who knows how to use her body to appear hilarious and touching at the same time. She makes use of her gifts here too, but it never leaves a lasting impression. This is no match to Spy (2016) or her sketches impersonating then-press-secretary Sean Spicer on SNL. (Carola A)


Second Opinion

Melissa McCarthy seems like a nice person, and it's charming that she makes movies with her husband (writer/director Ben Falcone). That said, I wish the movies were better. I particularly wish that this one wasn't so bad that even reviewers were walking out on it, but there you are (for the record, I stayed. It was rough).
The plot is essentially Back to School, the Rodney Dangerfield chestnut in which a middle-aged, hopelessly unhip boor attends college with his mortified offspring. This time McCarthy plays a sweet-natured, decent housewife callously ditched for a heartless, skinny blond (Julie Bowen). So it's back to school, and right away it feels like the writers didn't do their homework. Mean cheerleader-type cliques at the college level? ("You're old and fat. Come on, girls, let's go someplace cool!") An archeology class that references the Jurassic (no. Google it). The pronunciation of "mauve." And is Christina Aguilera (as herself) really "the voice of our generation?"
Bizarrely, our protagonist decides, with the help of her daughter (Molly Gordon) and sorority sisters (!?), to take on the mean girls on their terms. You know, instead of being an adult. And it works – she hooks up with the lead meanie's crush (Luke Benward), and he falls so in love with her that he wants to drop out of college, which isn't creepy at all. She kicks it old-school at a party, where she earns the moniker "D-Rock" from enraptured college students who'd never dreamed a mom could do The Worm. Her Waterloo turns out to be, inconsistent to everything else about her character, fear of public speaking. But with good friends and a super-positive attitude, all things are possible. Except a good movie. (Mason Jane Milam)