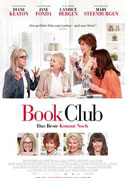 Book Club - Das Beste kommt noch (Book Club)
U.S.A. 2018
Opening 13 Sep 2018
Directed by: Bill Holderman
Writing credits: Bill Holderman, Erin Simms
Principal actors: Diane Keaton, Jane Fonda, Candace Bergen, Mary Steenburgen
The women in the book club are four 60+ women who have been friends since college and they formed their monthly book club to stimulate their minds. They have apparently been successful in their professional lives and represent a variety of choices in their personal lives: hotel owner, never married Vivian (Jane Fonda); federal judge, divorcee Sharon (Candace Bergen); restauranteur, long-time married Carol (Mary Steenburgen); and wife and mother, recently widowed Diane (Diane Keaton). I guess lesbian didn't fit in with the woman-needs-man-to-be-complete theme. Vivian's choice for the month's book selection is the erotic bestseller Fifty Shades of Grey. After initially resisting the choice, they find themselves interested in exploring their own sexuality, or lack thereof. Fortunately, the film didn't dwell too much on this drek of a novel (although having four intelligent, experienced women trashing this misogynistic, naïve, poorly written book could have been an infinitely more interesting film). Rather, it explores the desire to find love and intimacy in one's later years. There have been several movies exploring this theme that have been entertaining. This movie is not one of them.
The biggest disappointment is the performance of so many accomplished actresses and actors. The characters were shallow and weak and their wooden portrayals did not bring any depth to these roles. There is a lot of humor in aging, but the gags about aging bodies have been done before, and better. There were a few laughs in the movie, but not nearly enough to keep it moving. I checked my watch six times during the second half to see how much longer it was going to last. The sexual innuendos were juvenile and trite, which is about par for a movie that equates the interests of senior citizens to those of teenagers.
For women who have been good friends for forty years, they seem genuinely surprised by some of the intimate revelations of their lives and they didn't seem to share too much what was going on in their lives otherwise and how they felt about it. It was much too one dimensional and people of that age are anything but one dimensional. The screenwriters should take a cue from the actors. They may have aged but they continue to stay active and engaged, even if it means taking on mediocre roles available to aging stars.
The obvious parallel to the book begs the question: Did Diane actually read the book? She doesn't want to move in with her children because she doesn't want to give up her life, but she's willing to chuck it all for a man who knows best and decides the perfect thing to do with a woman who is afraid of flying is to take her up in a small plane. Of course, she is transformed. What a fairy tale. Oh, yes, he's rich, too. I don't think too many people with a lifetime of experience would fall for the fairy tale.
There is a wide audience for movies about life in the waning years and they don't have to dwell on what is lost. Look around. Fitness centers full of older people staying active, parks are full of them walking or playing with their grandchildren, restaurant tables are filled with groups of them talking and laughing and enjoying life, they are making movies even though they no longer need to work. They have a lot to share and aging doesn't mean becoming dried up and boring, like this movie. Perhaps if movies were made to explore the richness of lives lived, it would even inspire those who have not yet reached this age. (Anne Crocker)