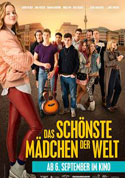 Das schönste Mädchen der Welt
Germany 2018
Opening 6 Sep 2018
Directed by: Aron Lehmann
Writing credits: Lars Kraume, Aron Lehmann, Judy Horney
Principal actors: Aaron Hilmer, Damian Hardung, Luna Wedler, Anke Engelke, Heike Makatsch
Edmond Rostand's verse drama "Cyrano de Bergerac" of 1897 has already been filmed several times. I still remember the version with Gérard Depardieu furiously swinging his sword on screen. Who would have thought that this classic love drama works so well when adapted into today's world of rap music and mobile phones, thanks to director Aron Lehmann and his team. Together with Lars Krause and Judy Horney he wrote an intelligent and witty script about a week in the life of a group of high-school teenagers in the year 2018.
The film starts with an energy-laden Battle Rap Contest where Goldface, hidden behind his mask, not only wins the trophy but disappears unceremoniously into the night. Next morning we see why Cyril (Aaron Hilmer) does not want to be recognised. His nose, inherited from his caring and always cheerful mother (Anke Engelke), is rather large. It is reason enough for his school mates' endless bullying. During the class trip to Berlin the new girl, pretty but ill-tempered Roxanne (Luna Wedler), lands in the seat next to him. These two oddballs immediately get on, sharing the same quick wit and intellect. Their teacher, Frau Reimann (Heike Makatsch), has long given up on the mop of unruly teenagers. Her strict and crazy rules are not always politically correct but she is happy to keep any serious damages under control.
When Cyril hears that the womaniser Benno (Jonas Ems) plans to seduce Roxanne, intending to put the film clip on internet, he is alarmed. No good to warn this wild and freedom-loving girl as she immediately reacts aggressively to any "advice". Anyway, she is interested in Rick (Damian Hardung) wrongly assuming that he is the clever but mysterious rapper behind the golden mask. Cyril, hopelessly in love with her, is too insecure to tell the truth. He even pushes her towards the good-looking but dim and harmless Rick, as long as she stays away from ill-meaning Benno.
European Shooting Star Luna Wedler, the talented Aaron Hilmer and Damian Hardung (TV serial Club der roten Bänder) form a strong team in this teenage comedy. The young cast always finds the right tone in being tender, witty, shocking, or just plain silly like Lissi and Titti (Sinje Irslinger, Julia Beautx). The songs are created by Robin Haefs and Konstantin Scherer. The Austrian camera man Andreas Berger (German Camera Prize 2001) skillfully catches the fast action with attention to detail. I was mesmerised with the speed but probably did not get half of the rappers' text. Will the love-sick Cyril ever find the courage to lift his mask and stand his own ground, to accept that we all have our flaws, even if the world around us suggests otherwise? The film ends with a highlight, a true surprise. (Birgit Schrumpf)