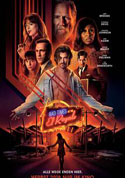 Bad Times at the El Royale
U.S.A. 2018
Opening 11 Oct 2018
Directed by: Drew Goddard
Writing credits: Drew Goddard
Principal actors: Jeff Bridges, Cynthia Erivo, Dakota Johnson, Jon Hamm, Chris Hemsworth
The El Royale Hotel is built right on the border of Nevada and California so that one can choose to stay in either state. It seems practically abandoned until a man arrives and checks into a room. He quickly hides a bag before his door bursts open and he is shot.
Ten years later, now the end of the 1960s, several guests arrive and check in with the help of hotel clerk Miles (Lewis Pullman). Father Daniel Flynn (Jeff Bridges) insists on a certain room. Darlene (Cynthia Erivo) is a singer who shares her talent with anyone who will listen; she plans to perform in a club in Reno. Laramie Seymour Sullivan (Jon Hamm) is a travelling salesman for appliances. Emily Summerspring (Dakota Johnson) arrives with her younger sister, Ruth (Cailee Spaeny) in tow; she is trying to save Ruth from the clutches of bad-guy boyfriend, Billy Lee (Chris Hemsworth), who also arrives.
Slowly small clues reveal secrets about the hotel guests, as well as the hotel. There is a mysterious corridor around the back with two-way mirrors into each room. Why is Ruth tied to a chair? Why does Laramie check out the fancy cars and go to a telephone both to call Edgar Allen Hoover of the FBI and say, "Sir we have a problem." Why does Miles seek absolution for his sins?
This is being billed as a horror murder mystery, but I would also add: comedy and musical. The plot, in spite of a long 141 minutes, goes fast as small clues, revealed bit by bit, definitely hold one's attention, all solved without the use of a mobile phone, which did not yet exist. I had to laugh frequently – quite bizarre, considering the number of corpses which pile up. Especially good are the actors (including film director from Canada, Xavier Dolan, in a supporting role). Cynthia Erivo, who performs many of the songs, also has a successful career as musical singer and song writer. (Becky Tan)