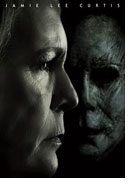 Opening 25 Oct 2018
Directed by: David Gordon Green
Writing credits: David Gordon Green, Danny McBride, Jeff Fradley, John Carpenter, Debra Hill
Principal actors: Jamie Lee Curtis, Judy Greer, Andi Matichak, James Jude Courtney, Nick Castle
It was Halloween night 40 years ago that Laurie Strode (Jamie Lee Curtis) survived an attack by psychopath, killer Michael Myers (James Jude Courtney). That night that Michael slaughtered all her friends, Laurie was young and unprepared but this Halloween she is older, wiser and ready. Although Michael has been locked in an institution for every Halloween for the last 40 years, Laurie has prepared. So when Michael makes his bloody escape she is ready for him.
Forget all the Halloween franchises since the first in 1978, this Halloween is a direct follow on from that first fateful night. If you are a follower of this cult slasher film you will appreciate getting back to the basics. It has it all; laughs, gore and the fright factor. (Christine Riney)


Second Opinion

For Laurie Strode (Jamie Lee Curtis), the horror of the night she survived Michael Myers' killing spree has never come to an end. She became paranoid, convinced that the worst might happen and that he might one day come back for her. This fear caused her to separate from society and become estranged from her only daughter Karen (Judy Greer). Everyone thinks she is crazy and broken by her past trauma, but when her nightmare becomes a reality, she might be the only one capable of bringing an end to his terror.
It was time for a reboot of the Halloween franchise and by doubling down on the ridiculousness of the original, director David Gordon Green manages to come up with the sequel everyone has been waiting for. Those past sequels? They no longer exist in this universe. Everything has been pared down to the original horrors, the impact it had on Laurie Strode's life, and how that trauma has trickled down to her daughter and granddaughter. Myers is a threat to the life of Laurie and her family even while he locked up safely behind bars. He might not have succeeded in killing her, but his influence is far reaching. Laurie is a recluse and an alcoholic struggling with everyday tasks in the face of her fear of him. While the film is certainly still a suburban horror story, it is also a commentary on the power of trauma and if it is really true that what doesn't kill you makes you stronger.
Halloween is fun and perhaps far more reminiscent of the original that any other sequel has managed to be in the past forty years. While there are a few missteps such as a rather boring subplot of the granddaughter and her boyfriend and maybe a few too many moments of horror movie clichés, the end result is a satisfying slasher flick which will likely please most fans of the original while still being accessible to new audiences. (Rose Finlay)