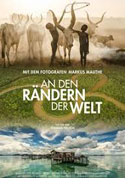 An den Rändern der Welt
Germany 2018
Opening 1 Nov 2018
Directed by: Thomas Tielsch
Writing credits: Thomas Tielsch, Markus Mauthe

Markus Mauthe is a German nature photographer and Greenpeace activist. For the last 30 years he has been traveling the world with his camera trying to capture the beauty of our planet. He not only shows beautiful photos but is also concerned about the future effect of globalization. The filmmaker Thomas Tielsch joined Markus Mauthe on his last travels to indigenous communities living on the "the edge of the world" in Africa, Asia and South America.
We watch the photographer aiming for the best lighting to take the perfect portrait under the most uncomfortable conditions. But at all times, he is very respectful of the people he meets and one feels his deep interest and concern for their world. He wants to show the beauty and dignity of each individual hoping to preserve it for future generations. "In ten years many of these pictures will not be possible any more as modern times are already under way", he maintains. "Television and radio bring news to the far corners of the world."
In South Sudan he meets people hidden deep in a valley where they still live in self-sufficient communities, away from any government. Some other folks are already protected in reservations and supported by international organizations. At the Omo River in Ethopia some tribes live near a road that is well known by tourists. When a Land Rover or a bus stops by, the indigenous tribes show up in their finery for a professional photo session, naturally for hard cash only. They are now a part of the tourism industry. As a contrast, an angry woman complains to the team that the river is slowly disappearing because the water is used for irrigation of the cotton/wool plantations owed by big companies. Once a dam will be built, her people's livelihood is threatened. They don't want any handouts from foreigners; they only need the river for surviving. In another place the chief wants a school for the children so that they can learn to write. He thinks education will enable them to live a better life. But he also emphasizes that the old traditions must be continued. How to keep the balance? In Indonesia, near Borneo, Mauthe is looking for the last remaining sea nomads. He finds a few families still living on their small boats. Their life is changing fast as there are fewer and fewer fish to catch and the young men are looking for work on land. Amazingly, the Awá in Brasilia have managed to live totally secluded and undisturbed on the Amazon. They wear their traditional clothing and go hunting with bows and arrows, despite the nearby railway line having destroyed the face of their surrounding landscape.
It is a bit confusing to jump from country to country and to visit many different tribes in this 90-minute documentary, but I learned a lot about the great variety of tribes, each with their own different needs. (Birgit Schrumpf)