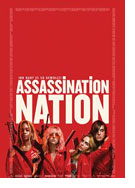 Assassination Nation
U.S.A. 2018
Opening 15 Nov 2018
Directed by: Sam Levinson
Writing credits: Sam Levinson
Principal actors: Odessa Young, Hari Nef, Suki Waterhouse, Colman Domingo, Bill Skarsgård
Lily (Odessa Young) and her three girlfriends, high school seniors in Salem, are enjoying their youthful womanhood while pointing fingers at the injustice of the society that controls the female person. Feminist to the core they document everything and share their innermost world on social media. Their trust in social media to remain private is their ultimate undoing.
Their lives are turned upside down when a hacker starts leaking the entire town's most private, embarrassing and normal human text, photos, videos, emails, etc. As everyone's intimate lives are laid out for all to scrutinize, the town's reaction and behavior quickly devolve and turn very, very ugly.
This film is an extremely violent commentary on society and in particular misogynistic behavior. As our worst fears are exposed and the fissures in our current society are exaggerated there is a vocal commentary, delivered by Lily, as a background to what we witness on screen.
Beware, the messages are relevant if frightening, the violence is sometimes too much to watch, but as with much in our society we are desensitized and the filmmakers go over the top to ensure that we get it. (Christine Riney)