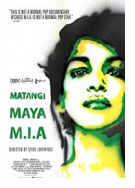 Opening 22 Nov 2018
Directed by: Steve Loveridge
Writing credits:

Mathangi "Maya" Arulpragasam, better known as M.I.A. to her fans, first came into prominence in the early 2000s with her dancehall songs "Galang" and "Sunshowers." She quickly rose in popularity and her work has charted in the Billboard Top 20 as well as been nominated for an Academy Award and two Grammys. However, in recent years she has become perhaps more known for her controversial political activism. In this very personal documentary, director Steve Loveridge chose to focus on M.I.A.'s family background and politics over her music. With access to her extensive home footage archive, Loveridge paints an intimate portrayal of the artist and activist from her early days before her career through her biggest triumphs and struggles.
The daughter of Arul Pragasam, a Tamil activist and former revolutionary, M.I.A. had a tumultuous childhood. Her family was under constant threat by Sri Lankan government forces during the Sri Lankan Civil War and as a result she moved to London as a refugee with her family in 1986. Her background remained important to her and as a young woman she went to visit family in Sri Lanka and she became deeply aware of the havoc and devastation wrought by the war. The impact of this visit remained with M.I.A. and influenced her music and her later activism in which she tried to bring focus on crimes committed against Sri Lankan Tamils as well as other oppressed groups throughout the globe. This has led to criticism from the Sri Lankan government, western media, and restrictions on travel to the United States.
Loveridge's documentary can at times feel disjointed. The sense of time is distorted as he arbitrarily edits in clips from her trip to Sri Lanka which often brings the forward movement of our understanding of her character and the development of her politics to a stumbling halt. Nevertheless, Matangi/Maya/M.I.A. is an interesting portrait of a controversial artist which highlights her erratic behavior against her background and deep sensitivity and compassion for the world. Instead of doubling down on the usual portrayal of the M.I.A. as a clueless popstar with a propensity towards dramatics, Loveridge gives the audience a glimpse of a complicated woman, who is struggling to find a way to use her fame to help those in need. (Rose Finlay)