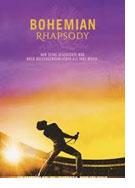 Opening 1 Nov 2018
Directed by: Bryan Singer
Writing credits: Anthony McCarten, Peter Morgan
Principal actors: Rami Malek, Lucy Boynton, Gwilym Lee, Ben Hardy, Joseph Mazzello
Freddie Mercury (Rami Malek) was the larger-than-life front man of Queen, so it should come as no surprise that his character in the biopic Bohemian Rhapsody steals the show. However, set against a movie that often misses the mark at achieving true depth, he wasn't competing against much for the spotlight.
The film chronicles the band's years from Mercury's 1970 addition, when he was then going by his birth name of Farrokh Bulsara and struggling as the creative son of a more conservative Pakistani family, to its world renowned performance at the Live Aid Concert in 1985. With so much history and so many hits to cover, Singer had a tall order to fill, but did manage to capture both the musical wonderment that is Queen and the personal life struggles of Mercury -- from his homosexuality to his drug addiction and AIDS diagnosis.
Carrying a prominent role in the story of Mercury's early years is Mary Austin (Lucy Boynton), his one-time fiancée and life-long friend. The film focuses heavily on their relationship, a point that has drawn the ire of many fans. Could there have been a more honest and unflinching portrayal of his life as a homosexual man? Most definitely. But was it still clear that Mercury lived his life as a gay man and, at times, struggled with it? Yes.
Overall, the film creates a narrative that, while true and filled with a cast of remarkable look-alikes, can't help but feel inauthentic at times. Despite this central problem, and the unshakeable feeling of being on a chronological whirlwind of hit making and dramatic scenes being ticked off a checklist, almost all is forgiven by Malek's portrayal of Mercury, already generating Oscar buzz. When he takes the stage, and the music plays, it's impossible not to be transported back to the '70s and '80s, stomp your feet and sing along. (Adelina Gonzales)