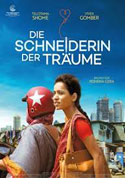 Die Schneiderin der Träume (Sir)
India/France 2018
Opening 20 Dec 2018
Directed by: Rohena Gera
Writing credits: Rohena Gera
Principal actors: Ahmareen Anjum, Vivek Gomber, Geetanjali Kulkarni, Tillotama Shome, Rahul Vohra
After two months of her arranged marriage Ratna's (Tillotama Shome) husband dies, making her a widow at 19. She now has to provide not only for herself but for her sister's education and leaves her village to find work in the big city. Her dream is to become a tailor. In Mumbai Ratna starts working for the affluent young architect Ashwin (Vivek Gomber) running his household. But will she be able to stay since he has returned from the United States without his fiancé and the wedding was called off? Gloomy and listless, the young man ignores her, sitting in his luxurious apartment in front of his computer or staring out at the glittering city below. Ratna stays in a tiny room next to the kitchen, watching him with concern. She tries to make him feel comfortable, serving him quietly and efficiently. They hardly speak but one feels that they are considerate of each other. After all, it is an intimate space they are sharing.
Ashwin's family wants him to marry and he feels pushed by his dominating mother. When she once more tries to get him on the phone, he gestures Ratna to lie for him. She seems to understand his misery by commenting "parents are in such a hurry to marry us off", obviously referring to her own situation as well. It makes him realise that he too is bound by Indian tradition, his status in society. Ashwin's dream is to be a writer instead of working in his father's building company. He allows Ratna to study dress making in her free time, working toward her own dream. During a posh party, arranged by Ashwin's mother, Ratna is serving the snobbish crowd. When she stumbles and a female guest gets splattered with wine, she is rudely reprimanded by an arrogant lady. To everyone's surprise, her employer Ashwin comes to her rescue. This is unheard of and he will have a lot of explaining to do, not only to his demanding mother but also to his friends.
The Indian-born filmmaker Rohena Gera studied in California, New York and Paris. She herself grew up with domestic help at home in Pune and has a realistic look at the situation of her protagonists. With Sir, her first feature film (after years of TV-work, documentaries and script-writing), she is evoking a poignant love in a low-key manner. The characters' loneliness and daily confrontation builds a sensuous situation. Tillotama Shome is superb in her role as Ratna, a woman struggling with dignity for self-sufficiency despite the social rigidities she is facing. Ironically, for the same reason Ashwin feels unfree by living in a "golden cage".
Dominique Colin's camera moves smoothly from room to adjacent room of the apartment showing the couple in their solitude but yet connected. The dramatic tension is kept in balance with Jacques Comet's thoughtful editing. Rohena Gera directs the extremely complex dynamics between all the protagonists with unobtrusive insight. "The film doesn't take on caste, but the way we deal with economically backward classes in India, perhaps, comes from the old casteist mentality", she says. Sir was screened at the Critic's Week Sidebar at Cannes and very deservedly won the Gan Foundation Award, as well as the audience prize at Cabourg Film Festival in France. (Birgit Schrumpf)