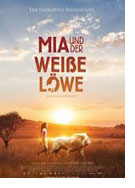 Mia und der Weiße Löwe (Mia and the White Lion, Mia et le lion blanc)
France/South Africa/Germany 2018
Opening 31 Jan 2019
Directed by: Gilles de Maistre
Writing credits: Prune de Maistre, William Davies
Principal actors: Daniah De Villiers, Mélanie Laurent, Langley Kirkwood, Brandon Auret, Ryan Mac Lennan
Eleven year old Mia's (Daniah de Villiers) life is turned upside down, when her family decides to move from cold and rainy London to the outskirts of South Africa to raise lions on a farm. Mia is terribly homesick, missing her old friends and school and all that is familiar to her.
One day her Dad, John (Langley Kirkwood) surprises his family with a baby lion cub and this is no ordinary cub! Mia does not have time with this banality of bottle feeding and nurturing the cub, instead her brother, Mick (Ryan Mac Lennan) cares for little Charlie, the White Lion. All the while, Charlie seems to be on Mia's heels. He dotes on her attention while she pushes him gently aside and couldn't bother with him until one day, many months after his birth. Charlie is into everything, eating the family's dinner, breaking valuable family heirlooms and getting into trouble. Mia cannot spend a minute without having Charlie by her side.
At first, Charlie is just a little ball of fur but a few months along the line, he grows into a strong and heavy beast. He has become unmanageable and Mia's family, especially her Mother, (Mélanie Laurent) fears for her daughter's safety while she is out and about "playing" with her Charlie, which has grown a considerable size and therefore poses as a threat to her safety. Mia becomes aware of the fact that her Dad has made plans to sell Charlie, to none other than the crooked Dirk, (Brandon Auret). This is unacceptable, as Mia knows what Dirk's intentions are and she has to stop him with or without any help. The great escape happens when Mia and Charlie set off in the middle of the night and steal away into unknown territories. She is determined, although sometimes afraid and overwhelmed by the challenges facing her along the way, but even so determined to reach her goal, she marches on with Charlie by her side. They eventually reach the Timbavati Region, a Nature Reserve and home to the White Lion for many centuries. Charlie is finally free and safe from poachers and Mia is at ease.
A heart - warming love story between a girl and her white lion. The setting in South Africa is authentic and gives you the feeling of being within the set. Beautiful views and cinematography by Gilles de Maistre. A masterpiece for animal and nature lovers within a marvelous setting. (Charis Habertag)