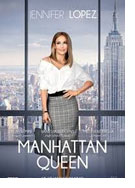 Manhattan Queen (Second Act)
U.S.A. 2018
Opening 17 Jan 2019
Directed by: Peter Segal
Writing credits: Justin Zackham, Elaine Goldsmith-Thomas
Principal actors: Jennifer Lopez, Vanessa Hudgens, Leah Remini, Treat Williams, Milo Ventimiglia
On her forty-third birthday, Maya (Jennifer Lopez) stands poised to have it all. She has a supportive and adoring boyfriend, Trey (Milo Ventimiglia of This is Us fame), ready to propose and more than ready to start a family, and is up for a promotion (despite never finishing high school) into upper management at the Queens supermarket chain where she's worked for years. But when she loses the job to a college-educated newbie brought in to take over her project and has to face explaining that she doesn't want children to a man she otherwise sees a future with, Maya's birthday is a bust.
Thank goodness her best friend Joan (Leah Remini) is there to cheer her up with wisecracks and a computer genius son who takes it upon himself to send out a fabricated resume that lands her a corporate marketing consultant job in Manhattan. Now Maya has a second chance to prove street smarts can be just as good as book smarts, a job that won't be easy as the CEO's twenty-something-year-old daughter seems to have it out for her. Sound contrived? You bet. Now throw her lost, adopted daughter into the mix (the reason she didn't finish high school), and her now ex-boyfriend asking her to be honest with herself and those around her, and Maya really is in a pickle. The implausibility of this plot is epic, but what would a J. Lo romantic comedy be after all, if it wasn't asking you to suspend a little - or a lot - of disbelief for the sake of good schmaltz.
At her best when she portrays the hardworking Latina we are always rooting for to catch that much needed break, Jennifer Lopez could do this role in her sleep, and if you liked Maid in Manhattan or The Wedding Planner, you'll probably enjoy this film as well.
As in those earlier box office blockbusters though, it is really the fun, quirky work of a strong supporting cast that makes this film enjoyable and delivers the laughs. Actual best friends, Remini and Lopez have great on-screen friend chemistry, a must in a chick flick, and corporate assistants Ariana (Charlyne Yi), Chase (Alan Aisenberg), and Hildy (Annaleigh Ashford) also deserve notable mention for their ability to detract the audience from what would otherwise be a train-wreck of a plot. (Adelina Gonzales)