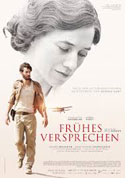 Frühes Versprechen (Promise at Dawn, La promesse de l'aube)
France/Belgium 2017
Opening 7 Feb 2019
Directed by: Eric Barbier
Writing credits: Eric Barbier, Marie Eynard, Romain Gary
Principal actors: Pierre Niney, Charlotte Gainsbourg, Didier Bourdon, Jean-Pierre Darroussin, Catherine McCormack
Whatever happened to subtlety? This is a new attempt at filming Romain Gary's famous autobiography of the same name. Gary's memoir is a moving and poetic memoir of a turbulent childhood in Vilnius (at that time Russian), school years in Nice and the war years as a clandestine fighter pilot in France and England. Above all the memoir salutes the incredible courage of Gary's Lithuanian Jewish mother Nina, who idolized France, the nobility, the arts (with the exception of brotlose Kunst, the impoverished arts like painting), and her only son Romain.
Director Eric Barbier jumps into the task with a high level of ambition. Very few points of the autobiography are left out, and the camera moves from country to country without a moment's stop for reflection or sentimentality. A garish carnival scene in Mexico is followed by a flashback to gloomy gray Vilnius in snow and bleak poverty. Then on again to the yellows and greens of a cheerful pension in Nice. Continue to the beiges of planes in the desert and the metallic tones of barracks and bunkbeds. Every detail is beautifully filmed, and for this visual beauty I gave the film three stars.
Unfortunately the characters of Romain (Pierre Niney) and his mother Nina (Charlotte Gainsbourg) are spread far too thin in the fracas of the long film. Gainsbourg gives her indomitable mother character a touch of the grotesque, appearing again and again as a major embarrassment to her son, screaming out her love for him through streets and stations and army camps. It's too much clownery, though, for more gentle feelings to surface. And Niney reacts with a stone face - Romain's inner life is left dangling behind a shrug or slumped shoulders on an army cot.
It's a shame that this film never rises above the long chain of dramatic events to reveal the inner workings of Gary's artistic formation. (Ann Gebauer-Thompson)