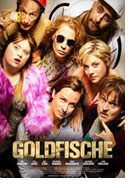 Opening 21 Mar 2019
Directed by: Alireza Golafshan
Writing credits: Alireza Golafshan
Principal actors: Tom Schilling, Jella Haase, Axel Stein, Birgit Minichmayr
Oliver (Tom Schilling), driving irresponsibility in order to make an appointment, crashes; his car turns over eight times. He wakes up in the Tarnach Stiftung rehabilitation center in Bavaria where he must learn to live the rest of his life in a wheel chair. Still, he does not identify with the other handicapped patients, and continues his job as a portfolio manager, all quite doable on a computer in a wheel chair, except that the W-Lan connection at Tarnach is terrible. He approaches the Goldfish group simply because their computer connections are the best in the house. We meet blind Magda (Birgit Minichmayr), Franzi (Luisa Wöllisch) with Down Syndrome, Rainman (Axel Stein) and Michi (Jan Henrik Stahlberg), both autistic, Their caregivers are Laura (Jella Haase) and Eddy (Kida Khodr Ramadan), who handle the group with contrasting attitudes and expectations.
Oliver thought he had enough problems, until he receives news that his money, secretly stashed away in a Swiss bank account, might interest the tax collectors. Even if he withdraws the money, how will he ever get it back across the border into Germany? But wait: border controllers are more lenient with the handicapped. Thus Oliver "generously" invites his four group members and two caregivers to board a bus, driven by Eddy, to a camel park in Switzerland – just about 90 minutes across the border.
I knew that Die Goldfischewas about a group of handicapped people in a rehabilitation center, who call themselves The Goldfish. I was expecting a repeat of the French film, Patients(Langer Leben2016), and wasn't surprised when this film also begins with a healthy man suffering a terrible accident causing paralysis and changing his life. But that is the end of the similarities. Die Goldfischeis very funny, all well played by the excellent actors of whom only Luisa Wöllisch is handicapped in real life. Tom Shillingtruly is the man of the year in German films – such beautiful blue eyes and expressions. He is perfect for this role of the ambitious banker who discriminates against others for his own advancement.
Director Alireza Golafshanimmigrated to Germany from Iran at age 12. This is his first long feature film. His graduation film, Behinderte Ausländer, at the Hochschule für Fernsehen and Film in Munich was based on his own father who had been handicapped before he died. Naturally, there is the discussion about whether one is allowed to laugh over the needs of the handicapped. Golafshan said, "Handicapped people do not want to be defined through their handicap. It is part of their life, but they don't necessarily want to talk about it." Here we experience how they want to be accepted to be as normal as anyone else, which, of course, they are. I enjoyed every one of the 133 minutes of Die Goldfische, and I learned something about penny loafers. (Becky Tan)