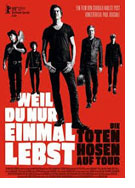 Weil du nur einmal lebst – Die Toten Hosen auf Tour
Germany 2019
Opening 28 Mar 2019
Directed by: Cordula Kablitz-Post
Writing credits: Cordula Kablitz-Post
Principal actors: Campino Kuddel, Breiti Andi, Vom
Die Toten Hosen is a punk rock band from Düsseldorf which first performed in 1982. Members are Campino (singer), Kuddel and Breiti (guitarists), Andi (bass guitarist) and Vom (drummer). All are German except Vom who joined from England in 1992 due to the death of the original drummer Wölli. Director Kablitz-Post accompanied the group on tour for seven months, collecting 180 hours of film. After just two concerts Cambino suffered acute hearing loss, which set them back for five weeks and performances were cancelled. In Germany they performed in Berlin, Chemnitz, Stuttgart, Gräfenhainichen, and Düsseldorf. They go to Lucerne, Switzerland, and even to Buenos Aires, Argentina. It's too bad there is no scene of them performing in Hamburg.
We are treated to 21 songs and sit with them in their bus as they go on to the next city. All of their performances, even in large stadiums, seem to be sold out. The enthusiastic fans are interesting in that there is a mix of 50-60-year olds who were there from the beginning 36 years ago, as well as the next generation of 20-30-year-olds, and even some grandchildren. During the live performance the band members share their liberal political opinions, such as accepting immigrants, with the huge audiences. They are definitely anti far-right and anti-racism; they extract neo-Nazis and skinheads who cause trouble at performances. They believe that other musical groups with this kind of publicity, should also take the opportunity to stand up for their political beliefs. They are loyal to their long-term supporting team of producers, tour organizers, catering, security, etc.
Die Toten Hosen (which my American colleague tells me are called "Dead Pants" in the USA) came to the 2019 Berlinale, in the section Berlinale Special, where their film premiered.
This is an interesting film for anyone interested in the current music world. I'll admit that, although I've been around as long as they have, I did not recognize any of the music, except "You'll Never Walk Alone," which is not their original song. All others are their own original creations, and definitely worth experiencing. (Becky Tan)