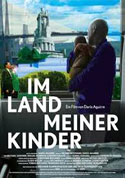 Im Land meiner Kinder (Land of My Children)
Germany/Switzerland 2018
Opening 4 Apr 2019
Directed by: Dario Aguirre
Writing credits: Dario Aguirre

Dario Aguirre was born in Ecuador and came to Germany in 2000 to be with his sweetheart Stephanie. They had fallen in love during her year as an au-pair in his home country. In Hamburg he enrolled at the University of Fine Arts where he studied visual communication/media to become a filmmaker. His first full-length documentary César's Grill was screened in 2013, earning him praise and numerous awards during film festivals around the country.
For 15 years in Germany he had to cope with a long list of regulations and filling in documents, or applying for permits. Bureaucracy was part and parcel of his relationship with Stephanie and their life together. They are now a family of three.
Finally Dario received an invitation to become a German. This led him to the question "What makes you a German?" and became the inspiration for his new film. With playful episodes he follows the path from the land of his fathers to the country of his children – often tongue in cheek.
He interviewed other immigrants who spoke of their feelings living between two worlds, constantly searching for ways to belong. For most of them it remains a balancing act between the old and the new home. Dario Aguirre handles a universal theme on a very personal and entertaining level. It has never been an easy road but he speaks of this complicated theme with touching openness and in a positive manner. The result is a very honest and uplifting film. (Birgit Schrumpf)