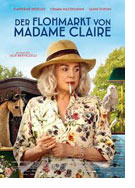 Der Flohmarkt von Madame Claire (Claire Darling, La dernière folie de Claire Darling)
France 2018
Opening 2 May 2019
Directed by: Julie Bertuccelli
Writing credits: Julie Bertuccelli, Marion Doussot, Mariette Désert, Sophie Fillières, Lynda Rutledge
Principal actors: Catherine Deneuve, Chiara Mastroianni, Alice Taglioni, Laure Calamy, Samir Guesmi
For those of us who are fond of televised antique road shows à la Kunst und Krempel or Lieb und Teuer, this film is a collector's dream. We meet Madame Claire Darling (Catherine Deneuve) on the morning of the day she intends to rid herself of her earthly goods.
Madame was a collector's collector, and her items for sale these just happen to be the most exquisite mechanical figurines, tea sets, Tiffany lamps, vases, inlaid tables, leather-bound books, drapes etc. imaginable. Innumerable items emerge from her stately mansion in the Verderonne and are piled randomly in the garden to be sold for a pittance; in the background a wandering circus performs for the village. Yes, it is all a circus, after all.
Madame is teetering on the brink of dementia and convinced this is her last day to live. As the items are carted out they evoke memories and she flashes in and out of the past, mistaking people in the garden with lost figures from other times. In the meantime Claire's daughter Mary (real-life daughter Chiara Mastroianni) has been alerted to what is happening, and she returns to her childhood home after many years of estrangement. Mary tries to make sense of what she is seeing.
Catherine Deneuve is memorable as the melancholy lady of the manor once so controlled by her lust to collect and to keep. This day is her grand moment, and it is wonderful to see Madame Claire helplessly mustering her resolve again and again to do what must be done. (Ann Gebauer-Thompson)