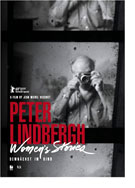 Peter Lindbergh – Women's Stories
Germany 2019
Opening 30 May 2019
Directed by: Jean-Michel Vecchiet
Writing credits:

Photographer Peter Brodbeck, who works under the alias Peter Lindbergh, was born 1944 of German parents, while they were situated in Poland during World War II. Shortly after his birth, his father joined the military; his mother made her way back to Germany alone with the family, including Peter at about age six weeks old. Eventually, he grew up in Duisburg, studied in Berlin, and settled in Düsseldorf. Although Lindbergh was also active in film-making, this film presentation focuses on photographs of fashion models. He gained experience photographing models for magazines such as Marie Claire, Vogue, Harper's Bazar, and Conde Nast for which he spent several years in Paris and New York City.
Although Lindbergh appears frequently in the film, information comes not from him, but from five women: Naomi Campbell, Astrid Lindbergh, Helga Polzin, Petra Sedlaczek, and Irene Silvagni. They have been influential in his life in the role of sister, wife, fashion model, or colleague, each with a definite interpretation of Lindbergh's works, as well as his personality. Lindbergh's photos were not the usual, rather sensual views of some type of clothing for sale, all in color. He photographed in black and white and often the model was not in full view, or the fashion played an unimportant role. Each photo has an individual personality that opens up ideas of other topics. Parallel in flashbacks we witness his mother struggling through the woods to escape Poland, her depressing attempt to become an opera singer (which would have been successful if she had begun ten years earlier), the relationship with his first wife and his present wife, Petra Sedlaczek.
This is an excellent film for anyone interested in one development of photography over the last 50 years, as well as anyone interested in the fashion world, or just history in general. It premiered at the 2019 Berlinale Film Festival. (Becky Tan)