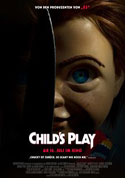 Opening 18 Jul 2019
Directed by: Lars Klevberg
Writing credits: Tyler Burton Smith, Don Mancini
Principal actors: Aubrey Plaza, Mark Hamill, Brian Tyree Henry, Tim Matheson, Gabriel Bateman
Andy (Gabriel Bateman) and his mom Karen (Aubrey Plaza) have moved to a new town. She works in Koslan, a large shop which makes and sells dolls, as well as most everything else. Her boyfriend Shane (David Lewis) spends much time at their house. Whenever Andy comes home, Shane is there. Andy's reaction is "Why can't he just go away and leave us alone?" This situation adds to his loneliness, as he tries to make friends. Perhaps his hearing aid also makes him an outsider. Karen tries to cheer him up and brings him a birthday present: a doll named Chucky (voiced by Mark Hamill). Chucky considers Andy his "best friend," whom he must protect, saying "Nobody hurts my buddy" and "Are we having fun yet?" Unbeknownst to anyone, this doll has had all of its safety facilities removed. It's a killer doll and the first victim is the family cat named Mickey Rooney, which bit Andy by mistake. Slowly Andy realizes that Chucky's idea of fun only causes trouble, to put it lightly; he throws him into the garbage. All the while, their neighbor, Detective Mike Norris (Brian Tyree Henry), is in charge of investigating a series of bloody murders.
This new Child's Play follows five previous versions from 1988 to 2017. My film colleagues said that this version is "different from prior versions." I was new to this topic and can confirm that you definitely do not need to be versed in the former showings to enjoy this one. The animation of Chucky the doll is so real; he could be alive. Chucky likes knives, which makes the film quite bloody and is therefore not for small children. Imagine that your mobile phone and your Alexa machine team up and control your life, as they might already be doing to a certain extent. What if they became evil? Otherwise, sit back and enjoy the "fun." (Becky Tan)


Second Opinion

Following a move, Karen Barclay (Aubrey Plaza) is concerned about her son Andy (Gabriel Bateman) who is a bit of a loner. Karen is a struggling to make ends meet while working at a big box store, but in an attempt to cheer her son up she finds a way to get the most popular toy on the market. The Buddi doll is a robot which is designed to be an interactive, artificially intelligent friend with whomever it bonds with. Unfortunately for Andy, his doll, whom he names Chucky, is a bit defective, and has a tendency to act out of character. Still, they manage to become friends until it becomes clear that Chucky seems to be missing his morality chip, and will do anything it takes to make Andy happy.
This is a Chucky for the "Internet of Things" generation. Instead of being the possessed doll of the original, we are faced with a defective robot, a far more realistic and frightening alternative in this world of growing technological advancements. The danger of modern technology is vital to the plot, and in a time when no one thinks about the impact of having our entire household interconnected through the cloud despite potential security risks, it is an interesting topic to exam through the lens of horror.
However, while Childs Play (2019) does have some original ideas which make the reboot worthwhile, an inconsistent screenplay lets the project down. It suffers from all of the usual effects of a poor writing: set-ups without pay-offs, insufficient character development, and forgetting to make any impactful statement on the themes it raised. If more time had been spent on ensuring the film's consistency in telling the story, Child's Play would have had all the makings of an exceptional entry into the horror genre. Instead, what resulted is a mediocre slasher flick which fails to be memorable.
While it is sure to be popular amongst fans who are looking for a fresh take on a tired franchise and those who merely want to see some gruesome slasher horror, Child's Play is unlikely to be considered impactful or interesting enough to ever become a horror classic. (Rose Finlay)